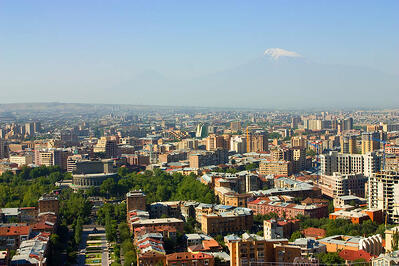 Windows Phone 8 has seen an explosion in market share within countries around the world, underlining why development for this OS is so important for many software companies.
When looking to outsource application or web development for Windows Phone 8, some of the best expertise comes from Armenia and Hungary.

Here is some more information on Windows Phone 8 and how these two countries are real innovators for this OS.
---

Access the Globe with Accelerance.
Download the 2018 Guide to Software Outsourcing in Eastern Europe.

Download ebook
---

Windows Phone 8 Market Share
Windows Phone 8 has been making a big splash in certain countries, with it accounting for 10 percent of the United Kingdom's phone market. However, other countries are also migrating to Windows Phone 8. In Europe, Windows Phone 8 sales account for 10.2 percent of the market, and that share is expected to grow. The market share for Windows Phone 8 is also growing rapidly on a year on year basis, up 123 percent in 2013 in comparison to 2012.
Windows Phone 8 is also expected to do well in the fast growing markets of Asia and Africa due to consumers there choosing cheaper but reliable phones that utilize the Windows Phone 8 OS.
Expertise in Armenia and Hungary
The question is how do you capitalize on this demand for Windows Phone 8?
Developing applications that work with this OS can be costly, which is why companies are increasingly turning to outsourcing for their software development expertise, cost advantage, and ties to Microsoft. It turns out that Armenia and Hungary are two countries where this expertise can best be found.
Microsoft runs its Microsoft Innovation Center in Armenia, closely networking with Armenian developers to make systems like Windows Phone 8 and support local startup ventures. Microsoft also has one of its main development facilities in Budapest, Hungary, making these two countries an excellent choice for companies looking to develop for Windows Phone 8.
Windows Phone 8 Benefits
There's a reason Windows Phone 8 market share is growing, and it's closely related to the benefits this OS offers. The interface on the home screen is recognized as very easy to use, allowing you to shift to what you want quickly and easily without any clutter.
Windows Phone 8 also allows enough customization to make each phone a personal experience, but not enough to easily confuse users like the Android OS often does. Users can also take advantage of Microsoft Office applications, and use a wide range of apps designed for business and managing network contacts in a way that goes much deeper than other operating systems.
Ultimately, developers are already trying to capitalize on the growing success of Windows Phone 8, and looking to Armenia and Hungary's talented pool of programmers for successful development. Accelerance has the connections with these two countries to ensure you get the development team you need to finish your project(s) on time and within budget.