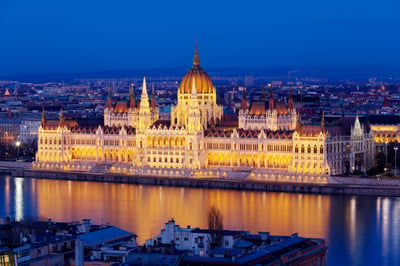 in a series of blog posts that documents my recent travels to visit Accelerance preferred software outsourcing partners around the world in Hungary, India and Vietnam. Accelerance travels to assess software outsourcing vendors on-site to confirm their staff management, facilities and programming operations are of the highest standards.
Budapest, Hungary – The Most Beautiful City for Outsourcing
The fact that Accelerance has a wide diversity of software outsourcing partners is proved by visiting a new partner in Budapest. I don't really like the term "boutique" to describe our partners that provide teams of 5 to 50 software developers compared to the large vendors providing teams of hundreds (what do all those people do, anyway?). But the term may best apply to our partner here in Budapest with only 15 software engineers total.
But here's the thing. They are all senior, no-nonsense software engineers and architects. They only take on the most difficult client engagements with technical challenges best solved by a small team of experts that you might hire locally – if you can find them.
Their location in Budapest is not far and a beautiful city. I arrived in the evening on a flight from San Francisco through Frankfurt, Germany. Catching a shuttle to my hotel from the airport was easy. In fact I purchased my ticket while waiting for my luggage to appear on the baggage carousel.
Budapest is a modern city with old world European charm. Long gone are the days of being behind the Iron Curtain of communism – that's like ancient history now. My hotel was directly across the Danube River from the picturesque Hungarian Parliament Building, built in the Gothic Revival style (similar to the British Parliament) and completed in 1904. The next morning I had a pleasant ten minute walk to the office to begin the assessment.
Cuisine of Hungary is beyond paprika and goulash these days. I did go to a traditional Hungarian restaurant in the castle district and found the food to be an excellent blend of old and new Hungarian cuisine. The live gypsy music was entertaining but aimed at the typical tourist who I prefer to think I am not. I declined their offer to sell me a CD as a souvenir of my meal. (If you go, check this website for a good selection of restaurants in Budapest: http://www.hungarybudapestguide.com)
Modern Hungary prides itself on its wineries and wine bars. If you go, check out the wine bar Divino, very close to St. Stephen's Basilica, for a broad selection of Hungarian wines. I recommend the Furmint white wine or a robust red wine made from the Kadarka grape a major component of the wine called Bull's Blood(although I was told this name is considered old fashioned and rejected by younger Hungarian wine makers).
Where was I – oh yes, the Accelerance partner assessment! This partner is perfect for a company not even thinking about offshore software outsourcing that needs to solve tough software architecture, performance or business critical software problems. Their English is perfect (almost everyone in Hungary speaks English) and their technical knowledge is world class. The founders of the company have both worked in the U.S. and for European companies.
Their primary skill set is Agile development of complex Java applications both from the perspective of backend server applications and modern user interface design. They have also completed several projects using the Python on the Django framework and have them running on the Google App Engine. In general they have a holistic view of complex systems from user experience in a web browser and on mobile devices down to the most secure and reliable backend server.
You will want to make contact with this Accelerance preferred Hungarian software outsourcing partner for your tough and business critical software development challenges needing a small tiger team of five or so engineers to design and implement your solution. Ask for our preferred partner profile for this company with more details of my assessment and visit. If you do go, I know you will enjoy meeting this highly professional team and visiting the beautiful city of Budapest.