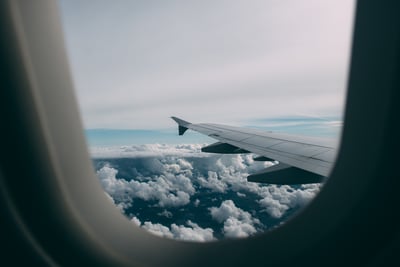 After you decide to use programmers in another country, just how much effort should you put into the selection of the vendor providing those programmers? Do you interview the programmers by phone? What questions will you ask of the vendor's references? Do you travel to the vendor's offshore location?
It's not always necessary to fly around the world
Chapter 3 of Software without Borders says the top three things to consider when in the final stage of selecting a vendor are the three R's: Resumes, Rates and References. And you can do that from your office.
But if your goal is to hire a dedicated team of programmers or if the success of your company depends on the performance of your outsourced programming team then a visit is recommended. In a previous issue of Runtime, I described a client named Dave who was forced to outsource and decided to travel to visit offshore software development vendors. For him it was a critical part of his decision making process which also took an unexpected turn after his return home.
If you decide to visit your prospective vendors
What should you look for when you visit?
If you focus on the first R for Resumes, then on a visit you should actually meet and interview the team members. More than that, you should also verify that the vendor has a good recruiting and training process.
After all, it is unlikely that the vendor will have your complete team on the bench ready to go. A good vendor will be constantly maintaining a pipeline of good candidates, pre-screened for technical skill and fit for international assignments.
And after hiring, good vendors also have a training program that new programmers are required to complete. It fills in the gaps not covered by university course work and gets the programmers used to the processes and procedures of the vendor before being deployed on client projects.
You need to check this out when you visit. Talk to the recruiters at the vendor and the people responsible for training new employees.
What is eSourcing?
But in fact recruiting and training are just one part of the "eSourcing" process.
If you haven't heard the eSourcing buzz word before, it means using information technology to enable delivery of services over the Internet. And it also covers finding and evaluating vendors that deliver services this way.
The people at the IT Services Qualification Center (ITSqc) at Carnegie Mellon University have thought a lot about eSourcing. They created the eSourcing Capability Model for Service Providers (eSCM-SP) as a framework for certifying service providers and to help clients evaluate and compare them.
The framework includes 84 practices and five levels of "maturity" in achieving excellence in eSourcing. This is similar to the five levels of the Capability Maturity Model (CMMi) also defined at Carnegie Mellon which covers best practices for the software development process.
The Wikipedia article for eSCM-SP classifies the eSourcing issues addressed by the framework into these six themes:
Good relationships between the service provider and the client, the end users, suppliers, and all stakeholders.
Selecting, hiring, and retaining a motivated workforce.
Well defined and delivered services that satisfy commitments and meet client needs.
Managing common business threats, such as security issues, risk management, disaster recovery, and statutory and regulatory requirements.
Providing world-class services that are always improving.
Managing service transitions well at both engagement initiation and completion.
The ITSqc folks have generously published the details of their framework on their website and you can make use of it to guide your software outsourcing vendor evaluation.
The Accelerance on-site assessment goes beyond the technical factors to create a complete picture of every preferred partner for our clients. Start looking for your outsourcing partner today!