Accelerance wrote the book on software development outsourcing


Outsource or Else! Is the critically acclaimed technology management fable written by Accelerance founders, Steve Mezak and Andy Hilliard. The book provides an entertaining, yet realistic look at the common concerns and pitfalls that companies face when navigating the risks and rewards of software development outsourcing.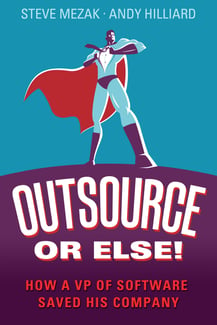 Real oustourcing advice in a laugh-out-loud story you'll relate to
Outsource or Else! provides technical leaders with advice and best practices for choosing the right software development outsourcing provider who:
Meets your technical requirements

Fits your company culture

Delivers maximum value for your investment

Brings new levels of innovation and best practices to your organization


---
Download the free ebook version of Outsource or Else!
---
Meet the authors
Learn Steve and Andy's favorite advice in the book.