NEXT STEPS
You've got the perfect partner. Now what?
A speedy integration of your internal dev team and your partner team to get started right.
Randomly standing up outsourcing projects leads to flawed outcomes, or worse, epic failures. Misaligned practices, communication and coordination between your internal team and offshore partner are often to blame.

Prevent your project from being a disaster story. Our Align service sets up your outsourcing partnership for flawless execution.
Let's get started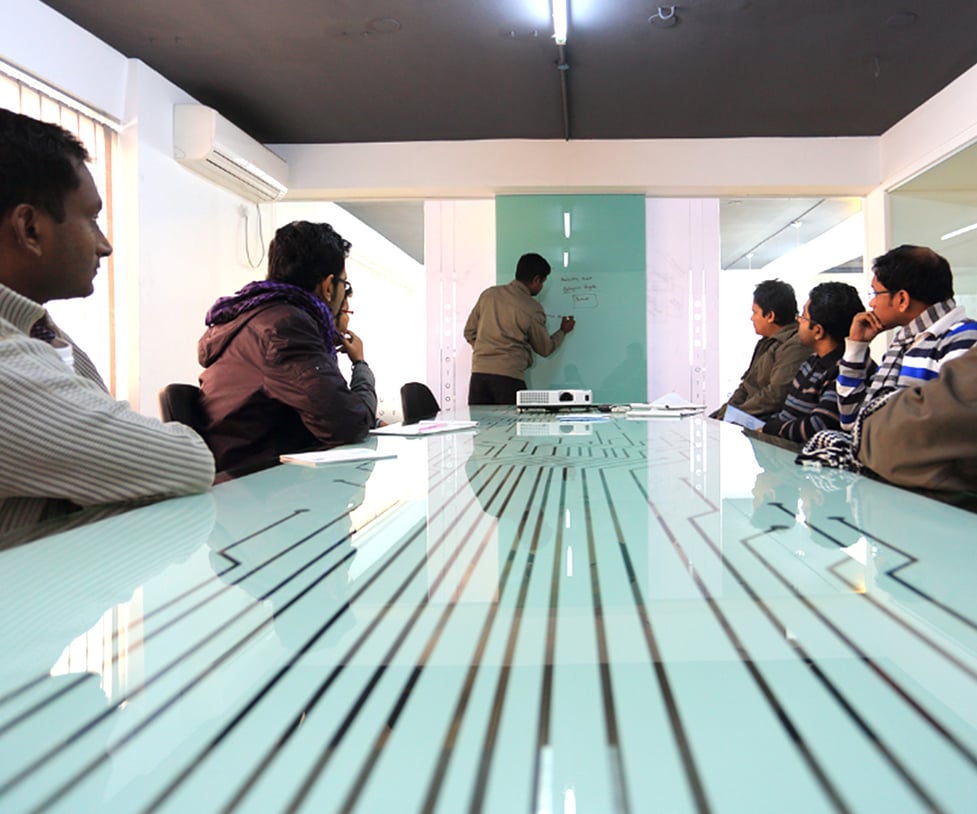 Prepare to Launch
Get fully in-sync teams within a week, or less.
Align is a three-day intensive workshop preparing your team and your new outsourcing partner to operate as "One Team."
An Accelerance professional facilitator coaches your blended team to establish shared expectations and work practices. Think of it as a dress rehearsal before the actual engagement.
Learn more from our Align infographic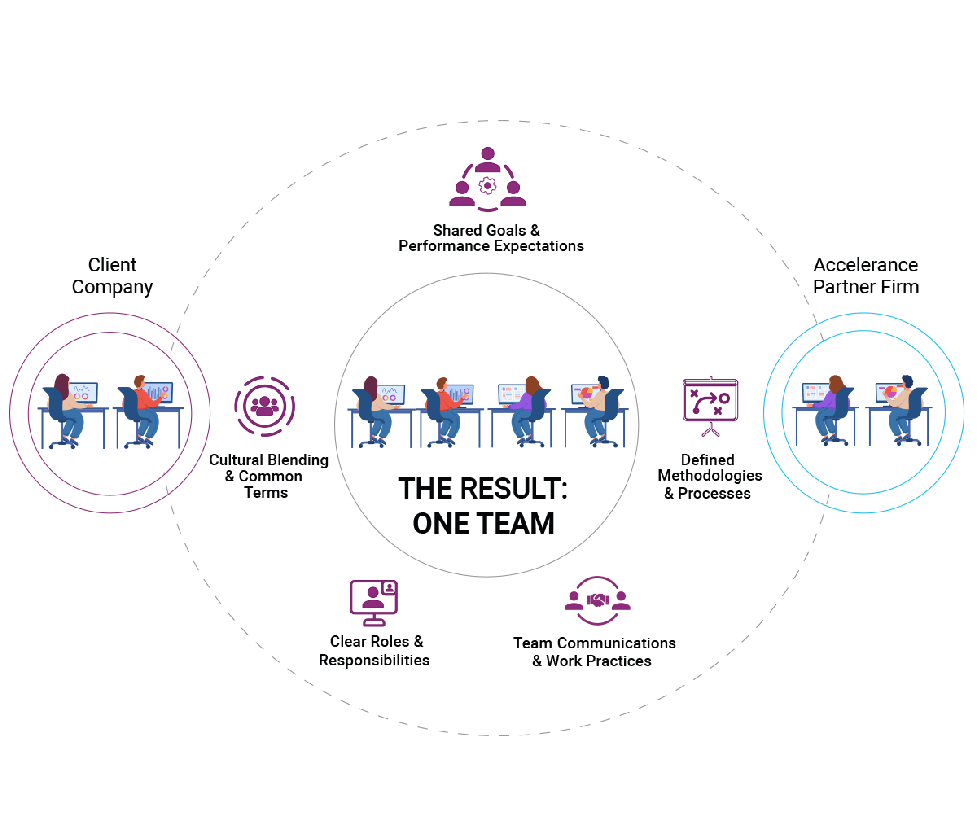 HOW WE DO IT
Gain alignment with your outsourced development team up front.
A proven approach for seamless teams.
You've found your ultimate software outsourcing partner with our Rapid Referral® service. Now you deserve an integrated project team ready for action. Our Align workshop makes it happen.
We'll help you explore the fit between your internal team and your development partner – and reconcile any differences in six key areas that make or break a blended team's performance.
Team integration sessions programmed to deliver in six key areas.
Let us help you not be a statistic.
25% of outsourcing projects fail within two years. We're not cooks, but we'd boil that failure down to lack of alignment.
Our practical, hands-on approach put the odds in your favor for success. Your teams have already formed, stormed and normed, before they ever have to perform. Your up front Align investment delivers faster production, less rework, better quality and a high performance team for the long haul.
Schedule a 30-min call with an outsourcing expert
Exercises
to create shared understanding across teams.
Simulations
to practice working together with common approaches.
Scenarios
to proactive understand how to handle common issues.
Optimize Results
Optimize your outsourcing software projects for outcomes.
Once your partnership is in place, we'll help you manage the relationship.
Whether that's as simple as a reminder to your remote teams about expectations, continued alignment support, or on-site facilitation — we guarantee your outsourcing software project outcomes.
Find out how to optimize results
Our global partner network is trusted by Who knew outsourcing software projects could be painless?
You've heard (or suffered) the stories of outsourcing gone wrong.
They're called outsourcing horror stories for a reason. Late to scrum meetings. Non-responsive to chat or email. Comment-less code that makes your internal teams pull out their hair — or quit.

With our certified global network and integration workshops, you don't have to worry. Your team is aligned to your goals and values — and we're there to help every step of the way.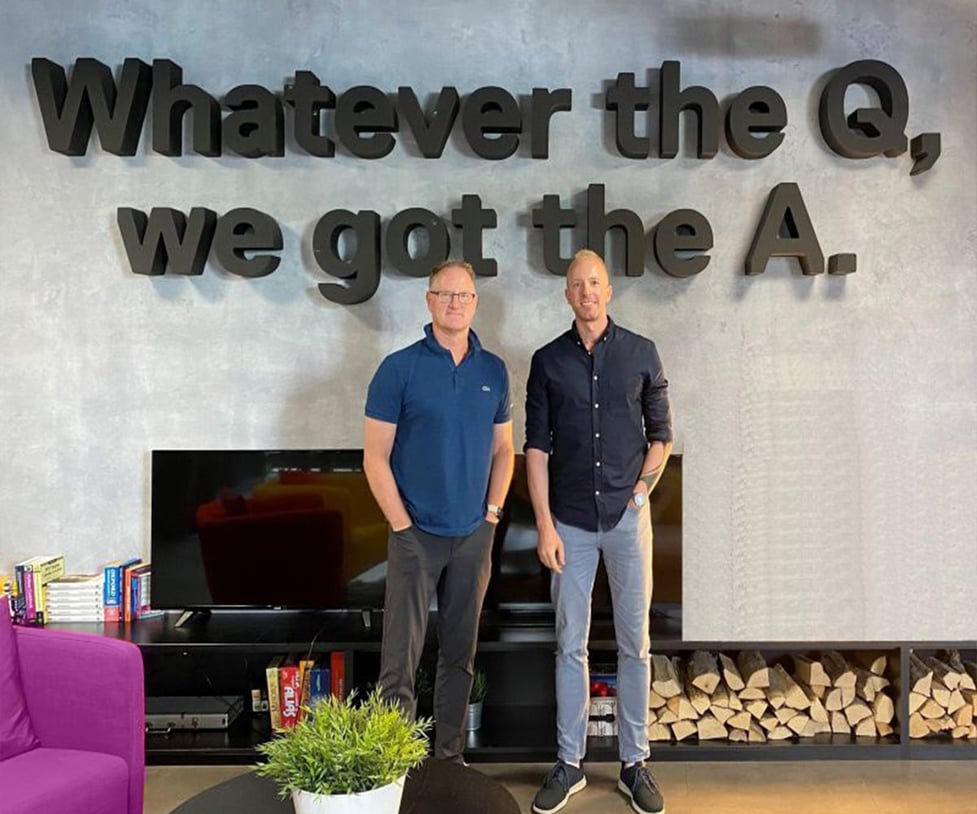 Insights
Finding outsourcing software project success starts here.
Explore industry trends and gain new insights with our reports, articles, and papers.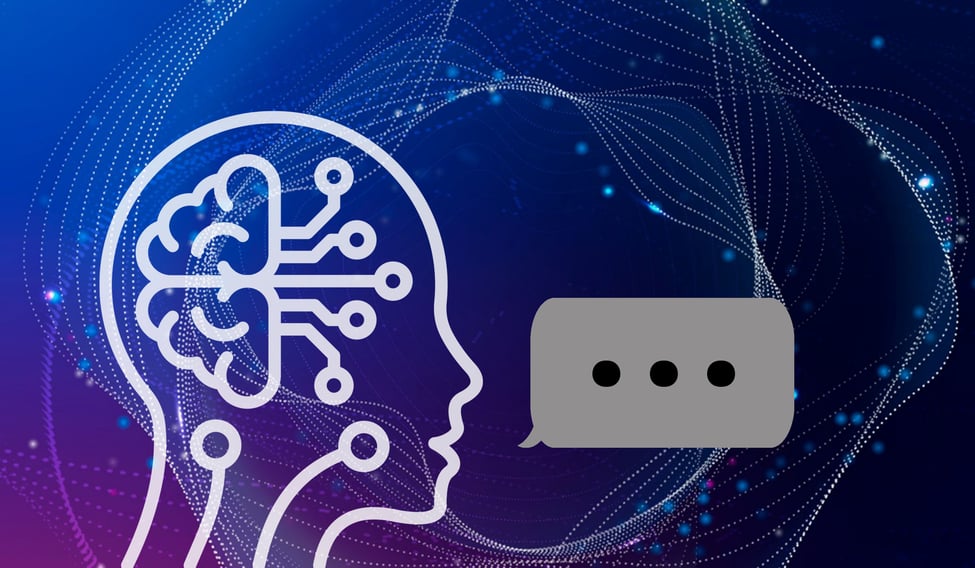 March 6, 2023 / Lisa Morrell
ChatGPT Series Part 2: Q&A on the Disruptive Power of Conversational AI
This is the second of a two-part series exploring the latest trends in conversational AI.
It took Netflix nearly ten years to amass 100 million users. Instagram took around two years to get there. ChatGPT, the conversational AI tool from OpenAI, reached the same milestone two months after its launch.
For the first time in years, we have a technology with genuine paradigm-shifting potential.Beyond the media hype and ChatGPT-fueled memes, we are seeing clear evidence of how these artificial intelligence tools, drawing on large language models, will change how millions of people do their work and access information.
Blog
Yes! Sign me up.
I would like to receive the latest updates on software development and outsourcing trends.