2022 Global Software Outsourcing Trends and Rates Guide
Front-line insights into software development trends and rates for your tech sourcing needs
For more than 20 years, Accelerance has offered strategic software development outsourcing solutions to help with resource management through fluctuating business cycles. Our 2022 guide, the most in-depth ever, shares our insider insights for IT leaders seeking flexible, cost-effective sourcing options.
As the global software outsourcing authority®, Accelerance draws on our world's largest network of certified software development firms to inform our latest guide. You'll gain proprietary perspectives about:
The highest-impact opportunities and trends in outsourcing software development

Beating the dire shortage of software engineers through innovative IT outsourcing

Global and regional outsourcing rates for 16 software engineering positions in nearshore and offshore locations

Cost versus quality trade-off considerations for the right, value-based software development partner choices

The growing use of next gen outsourcing strategies to future-proof your digital transformation initiatives
---
Get the guide delivered to your inbox!
All it takes is your name and business email.
It's prime time for software development outsourcing
Technology is leading the charge for global digital change in all industries. There is no end in sight to the ever-growing tech talent shortage. The number of unfilled software development jobs in the US is estimated at more than 900,000 and is expected to top 1 million in the next five years.
Accelerance recommends distributing your resources globally as a way to tap into deep tech talent pools. Through outsourcing, IT leaders can source highly skilled software development teams in weeks rather than months, with outsourcing rates that are a fraction of the onshore cost. Software outsourcing addresses the tech talent crisis by quickly filling critical team gaps and enhancing a range of essential skill sets, scaling to meet project needs.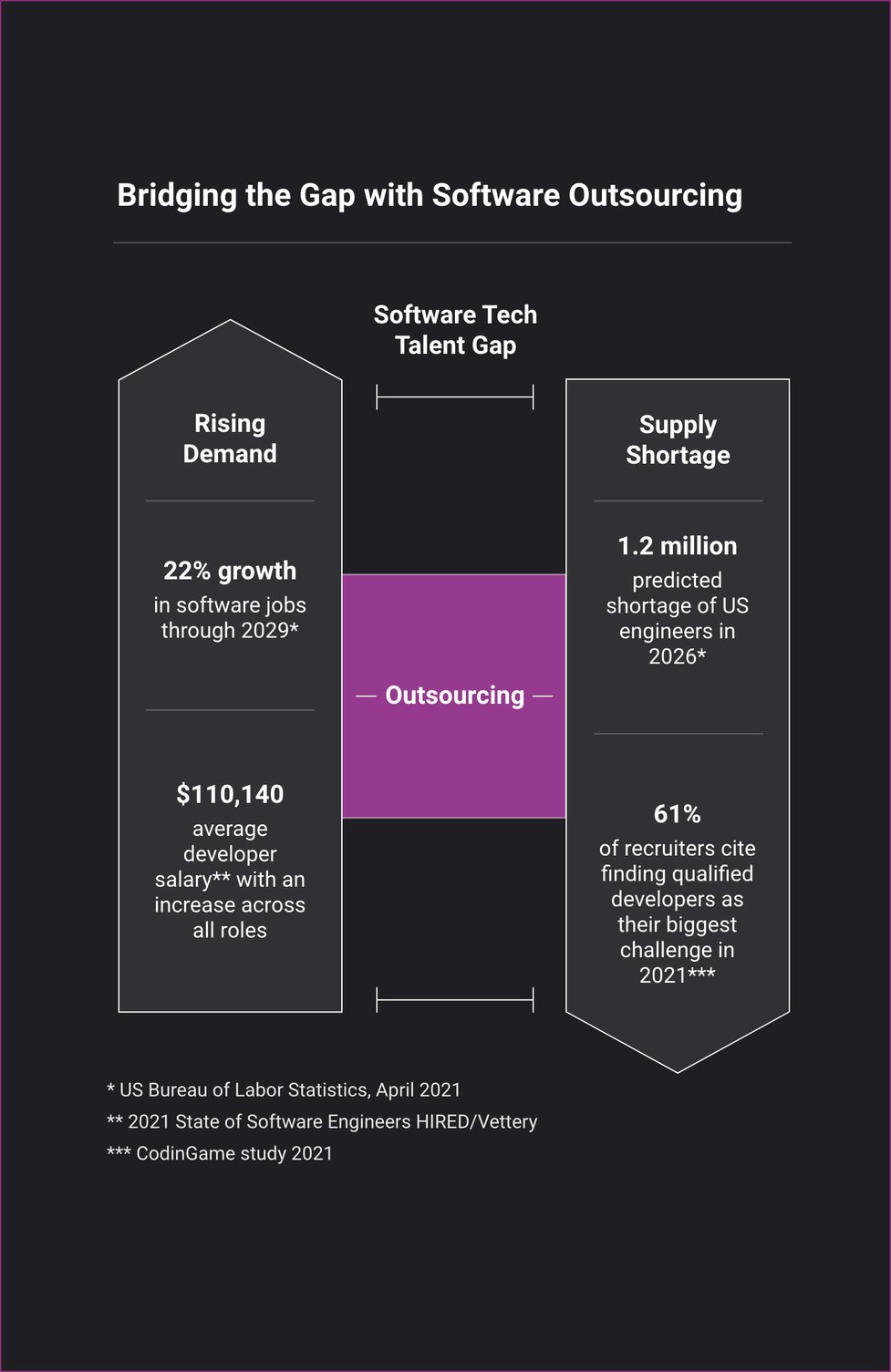 Software development outsourcing rates in 2022
Software development outsourcing rates vary considerably by region, skill level, experience, the specific technology stack involved and the length of commitment required.
Our analysis investigates software outsourcing rates across a wide range of partner locations. It will help you assess the pros and cons of location - nearshore or offshore - that is a key driver of outsourcing rates:
Nearshore partners are defined as those in a similar time zone (for a US company, for example, that includes Canada and South America). This allows fluid interaction across standard business hours, and minimizes travel time and jetlag for on-site meetings.
Offshore teams, based in Asia, Europe or Latin America, generally offer the greatest cost savings, but may come with their own set of challenges, such as cultural differences and the need to navigate a greater discrepancy in time zones.
Crisis as a catalyst to revolutionary change and growing trends
The global marketplace is rebounding after a jarring shift. As businesses grappled with the pandemic's backlash on projected growth patterns and organization structure, we saw a number of new trends emerge.
Some of these trends are now evolving into new norms in a brave new world following the pandemic. Here are our experts' top picks of high-impact trends that will shape software development outsourcing in 2022.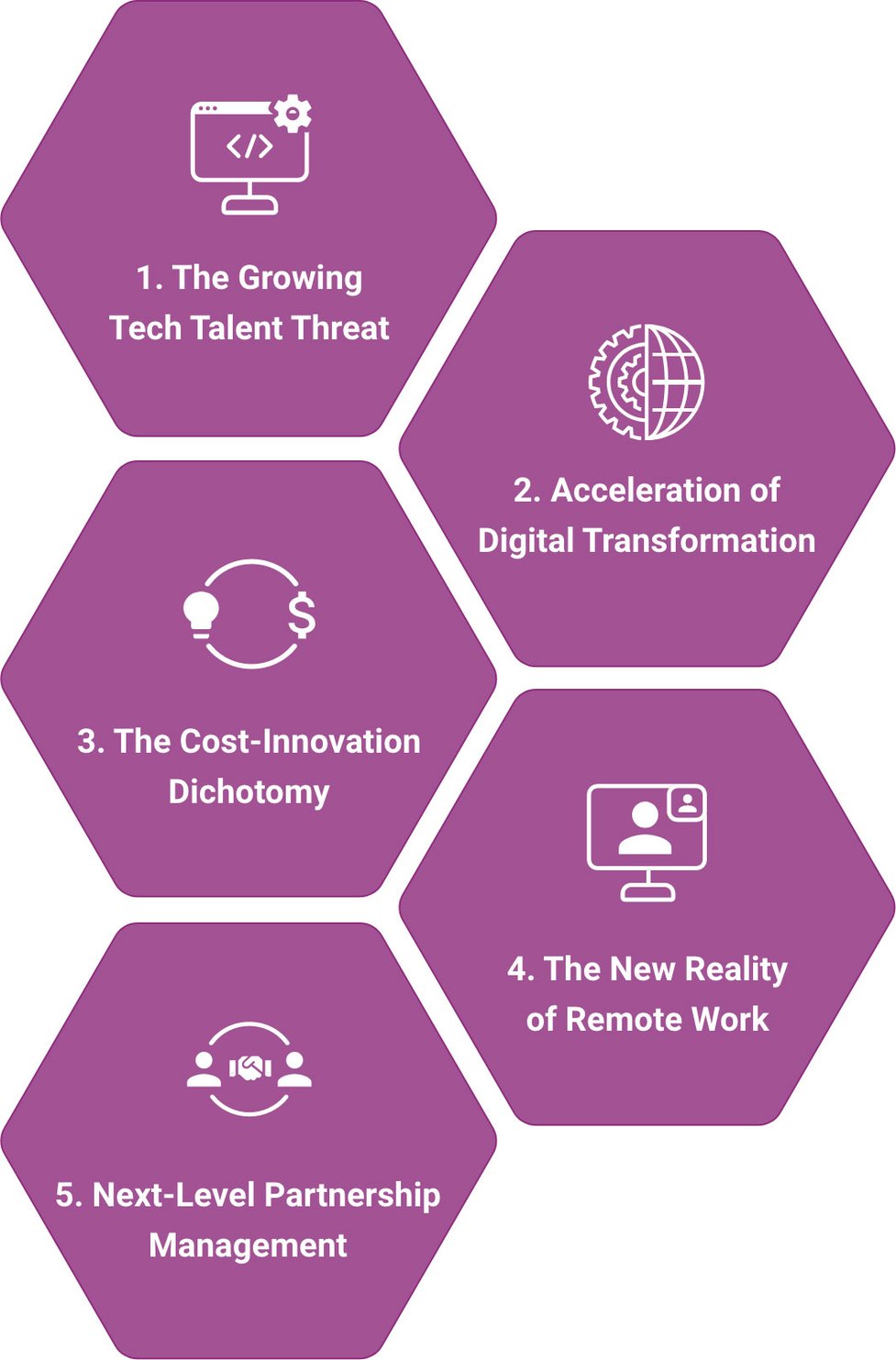 Planning for the future
Businesses that previously incorporated or easily adapted to outsourcing their software development as a strategy better absorb the impact of varying business cycles.
Accelerance finds that a geographically diverse workforce with multiple points of software development ensures that there is no single point of failure when disaster strikes and business can continue with minimal interruption.
The path forward will be influenced by lessons learned during the crisis. Outsourcing will be a key strategy to develop six critical factors for future-proof business models.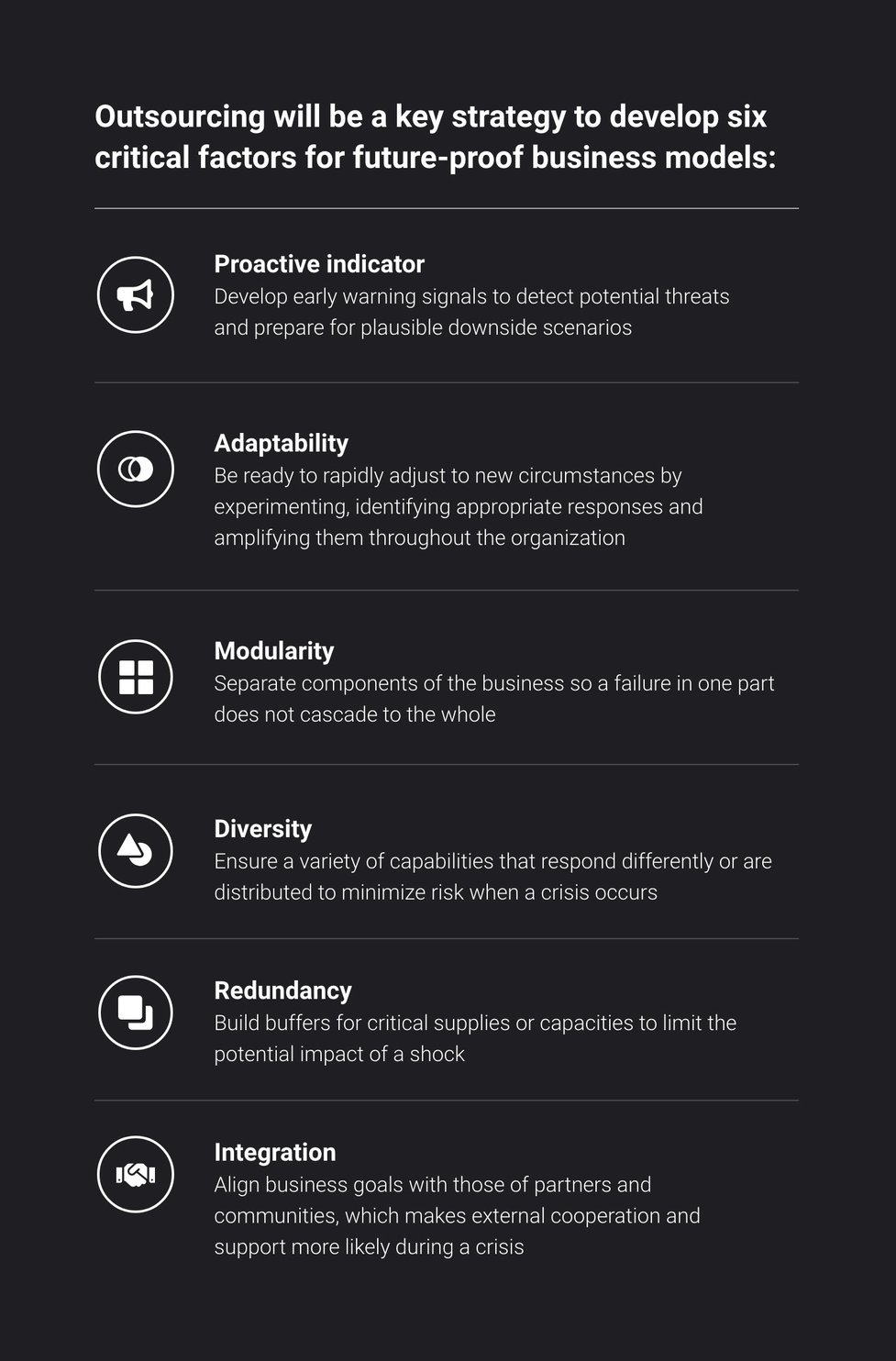 Get the guide delivered to your inbox.
Download your free copy of the 2022 Global Software Outsourcing Trends and Rates Guide to access insider information from Accelerance, the Global Software Outsourcing Authority.®
---
Get the guide delivered to your inbox!
All it takes is your name and business email.