Use software development outsourcing to your strategic advantage.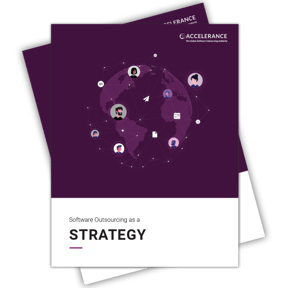 How times have changed! Traditionally associated with back-office IT functions, software
outsourcing has become a celebrated source for strategic digital innovation.
Has your tech sourcing model evolved accordingly? Now's the time! Get our software outsourcing strategy guide for the latest insights and approaches to:
Understand the increasing use of software outsourcing as a strategy to power digital transformation and other enterprise
initiatives
Explore critical aspects (why, when, how, and where) for informed
software outsourcing decisions
Learn proven ways to find the best strategic outsourcing partner
Take your software development outsourcing to a new level. Join the growing number of IT leaders deploying outsourcing as a strategic weapon to drive growth and agility, secure scarce, advanced engineering skills, and ultimately transform tech sourcing models.
Want to get ahead of the game? Accelerance's proprietary insights help IT leaders stay informed about future-forward tech trends such as disruptive, strategic outsourcing.