Launch your outsourcing team with confidence.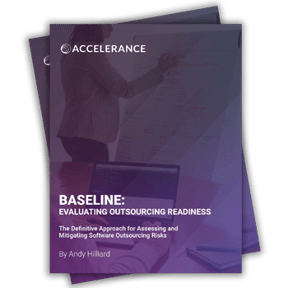 Before you begin software outsourcing, it is essential to assess your capabilities and readiness before you reach out to vendors.
In our white paper, we address business, management, and technology risks that can cause disaster and how to be proactive in planning for success. Accelerance believes in pursuing software outsourcing as a strategy. It is our job to make sure it is a winning strategy for you.
What's inside?
Red Flags: 15 key risk areas for software development outsourcing
Business, management, and technology risks that can cause software outsourcing to fail
Assessing your risk level and maturity
How to minimize your risk
The four phases of software outsourcing success