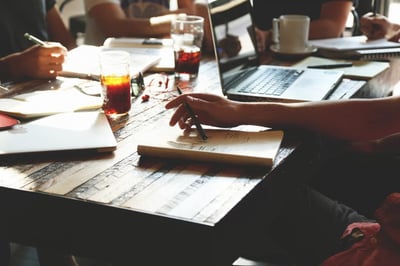 Guest Post by, Lauren Hodgson, Employer Brand Strategist at Axosoft
Agile philosophy: it's saved countless number of teams and companies time in production and organization. Through a culture of self-management, open communication and cross-functional teams, those who participate in Agile simply get things done. The promotion of planning, continuous development and rapid iteration allows for flexibility and innovation.
Agile carries with it the idea that every person who participates, is vital and can make a difference. This idea is also echoed in what a company's culture is. Here are 5 things that Agile can teach us about how to evolve a culture to something that is vital, growing and exciting.
Measuring progress. Culture is not a list of values that hang on a wall. And it isn't something that should exist simply to attract top talent or promote happiness in a workplace. Company culture exists to aid us in achieving what we're looking to create. It should be intentionally designed to create workability so that the company can continue to be successful in its mission and in what it's trying to do in the world. It's the "how" to the company's "why." It's best to measure the success of your culture by performance and effectiveness.

Continuous Delivery. Company cultures should be consistently evolving. Culture is fluid; it changes when our beliefs and behaviors change. When we hire a new person to the team, move into a new stage of business, or learn new information, our culture gets altered slightly. The goal is to be crystal clear on why you exist. As you continue to iterate, evolve and grow, it's pertinent to preserve your organization's core beliefs.

Give the right environment and extend trust. When you hire the right people, it's pertinent that you give them what they need in order to thrive. That comes in the form of a space that engenders innovation and collaboration. It also may mean having spaces where folks can simply focus for a couple hours. The right space changes for your employees at different times so you can give them the freedom to choose which way works best for them. Encourage fast decision making, give creative freedom, and give ownership to the smart people you hire. And ultimately, give a trusting environment that is free from hidden agendas, office politics, and fear.
Active User Involvement. Your company culture already exists whether you choose to foster it or not. It exists from collective and consistent behavior over time. Leaders should intentionally design, nurture, and guide it in the way that helps the organization be effective. Leaders set the vision and tone and should empower their people to continue to own that vision. When employees self organize and create ways to foster the culture you're leading, it's typically more effective.
Sustainable Development. As Jim Collins has shown us, building a lasting company is a

20-mile march

. In guiding our people, we want to create an environment where they can keep that pace, indefinitely. It's easy to say that we want "work/life balance," but actually doing it when short-term wins seem to be more pressing than the long-term strategy, can put us in a position where we may want to favor growth and revenue over culture. You can be really aware of this by being tuned in to your people, allowing the excitement of growth to power momentum, and balancing that with rallying, empowerment. Always remember that culture drives performance. So when you focus on the culture, the performance will follow.