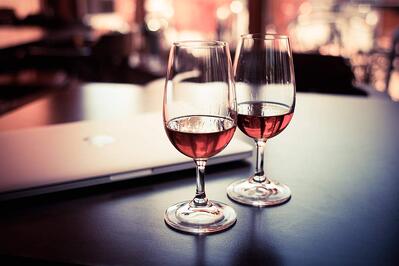 One of the great advantages of my job is getting to meet software outsourcing partners in faraway places all over the world. To be sure, part of these trips is purely nuts-and-bolts stuff: assessing staff, management, facilities, and programming operations, for instance.
But where it really gets interesting is learning about the culture and history and people of an area. You can learn about a region through any number of cultural entry points. One of my favorites? Wine.
I've already discussed aspects of winemaking in Argentina. However, in a previous post, while I'd mentioned the many charms of Budapest, Hungary — which I'd visited last year for a meeting with an outsourcing partner — I barely even got to touch upon some of the area's excellent wines. This is a shame, as wine is a huge part of Hungarian culture. Although the wine industry suffered under the Communists and really didn't do very well for a number of decades, in the last 20 years or so it has been re-emerging, with a new generation of winemakers embracing traditional Hungarian varietals and wine styles.
One wine in particular, a red blend popularly known as "Bull's Blood," took my taste buds by the enological horns during my visit and left a lasting impression. I like strong, bold red wines, and Bull's Blood fits that profile very well. Think of wines like syrah, or petite sirah — they don't necessarily have that sophisticated, aged, Cabernet type of taste, but more of a bold, deep red, strong flavor, a bit less subtle than the finer wines.
Bull's Blood (or Egri Bikavér, as it is known in Hungary) comes from the Eger region of northern Hungary and was customarily anchored by the kadarka grape, although officially the wine must contain at least three of 13 specified grape varieties. The kadarka (also known as gamza, among many other names), which is thought to have originated in Hungary, was once the country's most famous grape, but its finickiness led to the Communists virtually abandoning it in the '70s and '80s in favor of easier-to-grow options. It's a dark-skinned grape with a strong aroma, dark color and spicy aftertaste.
Some say the quality of Bull's Blood suffered under the Communists due to industrialization and the exclusion of the kadarka grape. Whether that's true or not, both the grape and Hungary's winemaking tradition have been on the rebound since the country transitioned to a democracy in the late '80s, and Bull's Blood, as well as its many fans, have been the lucky benefactors.
In case you were wondering, no, you don't have to travel all the way to Hungary to sample this homegrown product (although I could think of worse ways to spend your time and money) — I've also found Bull's Blood for sale in good wine shops in the States. In fact, I stumbled upon a bottle in a Silicon Valley wine shop and found it to be a good value.
One last thing: I'd be remiss if I didn't talk about the name a little bit. The first thing you should know is that younger winemakers in Hungary apparently shake their heads at the name Bull's Blood, thinking it old-fashioned. You've been warned.
But how did this "old-fashioned" name come to be in the first place? Well, the story goes that back around 1552, the Hungarian town of Eger was attacked by an Ottoman army numbering 35,000 troops (possibly more). At some point during the month-long assault, word spread among the Turks that the Hungarians — there were only 2,000 or so soldiers and townspeople defending the community — were drinking wine fortified with bulls' blood to give them superior strength. The Turks became demoralized by the news, so the legend goes, and eventually the siege was broken. Ah, the power of good PR.
Watch this space for future reviews of the wines I'm fortunate enough to sample as I visit our software outsourcing partners. It's to our benefit to take the time to learn and share information about other countries' cultures, whether we want to better understand outsourcing partners or simply need to scratch an intellectual itch. The process inherently makes us better informed and more thoughtful wherever our pursuits take us.
If your particular wheelhouse doesn't include outsourcing, contact us here at Accelerance and let us help. We'll be able to provide you with all the important information necessary for choosing a software outsourcing partner that's the best fit for your company.