We're two quarters into 2017 heading into a third and we're taking a moment for big picture reflection. Yes, 2016 was a remarkable year. Regardless of your political leanings, it is safe to say no one imagined when closing out 2015 what was to transpire over the ensuing 12 months – specifically events in the United Kingdom and the United States
While the potential economic ramifications of Brexit (the departure of the United Kingdom from the European Union) and the new U.S. Trump administration have not yet fully played themselves out to any meaningful degree, businesses are adjusting their planning now, considering what can be reasonably expected going forward.
This is very much true for outsourcing software development. Here, macroeconomic and geopolitical factors heavily influence the degree to which a company would pursue this option. And it is the opinion of Accelerance that throughout 2017 companies in the United Kingdom and the United States will increasingly seek out nearshore and offshore outsourcing options, when building the critical software that runs their businesses. The factors influencing this include: currency valuation, interest rates, unemployment rate and immigration.
Outsourcing in the near term to intermediate term will continue at pace. There will be a de-emphasis, however, in price being the prime driver, with greater importance placed on access to world-class talent, added-value and the innovation that outsourcing delivers.
Here's a brief look at Brexit and outsourcing and President Trump and outsourcing, as well as an informative new eBook: What You and President Trump Need to Know About Software Development Outsourcing: It's the Only Choice for Some U.S. Enterprises
Brexit Could Make Software Development Outsourcing More Attractive (or Necessary) to Some Companies, in Light of a Potential Loss of European Union (EU) Nationals
Last year's June 23 Brexit vote shocked everyone, including many in the "leave" camp. The ink on Fleet Street papers had hardly dried when David Cameron announced his resignation as Prime Minister, with Theresa May soon named his successor.
While Britain gave formal notice of its intention to withdraw from the EU in March 2017, the formal severing won't be complete until March 2019. Still, several factors have impacted the market, particularly in London, even though the "way forward" is still very much unclear. Most significantly has been a drop in British currency since that day in late June 2016. In fact, the British pound has fallen 15 percent in value against the U.S. dollar, according to USA Today. More significantly, the British pound is off against the currencies of many attractive outsourcing destinations, such as Argentina, Ukraine, India, Vietnam, etc. While this might otherwise lessen the need to outsource (with the cost advantages being reduced), the general scarcity of talent in the United Kingdom will actually prop-up the demand to outsource. Specifically, the potential lack of access to the EU talent pool will create an even greater demand for workers in an already competitive labor market. This will naturally raise inflation concerns that will need to be deftly managed.
Tim Donovan of BBC News reviewed this scenario quite well in his Nov. 10, 2016 article. Currently, EU Nationals comprise 15 percent of the workforce in greater London; the loss of this talent would have a significant impact on the national economy, with an estimated £7 billion contributed annually in direct taxes. Fortunately, leaders on both sides of the aisle recognize the importance of adopting a comprehensive immigration policy to avoid this. Still, if EU Nationals feel less inclined to work in the United Kingdom, if Visa acquisition and terms are too restrictive, or if European businesses decide to relocate away from the U.K. to "Europe," the decision may be made for them, notwithstanding the policies enacted by a fully independent Parliament.
In 2017, we see U.K. companies not leaving anything to chance, and engaging top software development talent through outsourcing, rather than hoping that talent can be found locally.
While the U.S.'s Trump Administration May Not Believe in Outsourcing, It's the Only Alternative for Some Software-Focused Companies in a Tight Labor Market
Like Brexit, a Donald Trump victory in the Nov. 8, 2016 election was a huge surprise for some; so much so that the shock was first felt in the Dow Futures Index, which was off 900 points before finally settling down 300 points before the exchange opened the following morning. By the same token, the U.S. S&P 500 stock index is up more than 11 percent since the election of U.S. President Donald Trump in November, according to Reuters, "spurred by optimism over his plans to reform the tax code and cut regulation."
However, like Brexit's country-first mentality, the "America first" imperative of the Trump administration is worth watching, as it may not bode well for outsourcing in general. In fact, Trump has shared his view on outsourcing numerous times, and he's even said, "…offshoring is a tremendous problem that displaces many of our best American workers…" He's made this view very clear on the campaign trail leading up to the election, in speeches and on Twitter.
---
---
But with a 4.7 percent unemployment rate (not accounting for those who have "left" the labor market), the U.S. federal government is concerned about the U.S. reaching "full employment" and the inflation that causes. Factor in the anticipated uptick in growth, wages should grow over the next two years, regardless. Thus, with an increasing demand for talent (and those higher wages), coupled with the increasingly attractive prices found in nearshore and offshore markets, the share of software developed with outsourced teams outside the U.S. should increase well above the levels we've recently seen.
So while President Trump and U.S. politicians raise concerns about offshored jobs, the reality is that outsourcing software development is often the only alternative for some companies in a tight labor market (one that demands high salaries and highly competitive compensation packages, to attract and keep top-notch software engineers, assuming they can even be found).
For many companies that need software development engineers, there's not much choice but to seek talent outside the United States. And what the new U.S. administration may not know about outsourcing software development is that it fills the U.S. talent gap without impacting the jobs of existing employees or other job opportunities – all while contributing to the U.S. economy. In effect, software outsourcing actually stimulates even more software development in the United States, inspires more U.S. innovation, supports profitable U.S. businesses, adds to a healthy U.S. economy, and spurs many more jobs in the United States that go outside of software engineering roles.
While we'll continue to pay close attention to the ramifications of Brexit and the new Trump administration, one thing is certain: More U.S.-based and U.K.-based companies will be increasing their outsourcing of software development in 2017 and beyond.
Download the Complimentary eBook, What You and President Trump Need to Know About Software Development Outsourcing: It's the Only Choice for Some U.S. Enterprises
This new eBook from Accelerance considers the legitimate reasons why companies outsource their software development, in light of outsourcing concerns by the United States' new political administration. The eBook covers the well-documented shortage of software developers in the United States and the high salaries that these engineers command, which some SMBs or start-ups may not be able to afford. The eBook also covers the difference between custom software development outsourcing and IT outsourcing (an important distinction in the discussion about outsourcing), as well as the Five Advantages of Outsourcing.
And if you're ready to outsource software development, give us a call. Talk to an Accelerance Advisor about your software engineering needs. Call Toll-Free in the United States: +1-877-992-2235. For All Other Global Calls: +1-650-472-3785.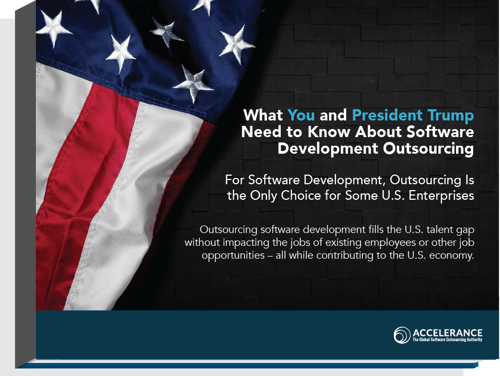 Get the Report
The shortage of software developers in the United States is well-documented. The Trump administration has drawn attention to outsourcing as an approach that threatens American jobs. But is all outsourcing created equal? Outsourcing software development fills the U.S. talent gap without impacting the jobs of existing employees or other employment opportunities – all while contributing to the U.S. economy.