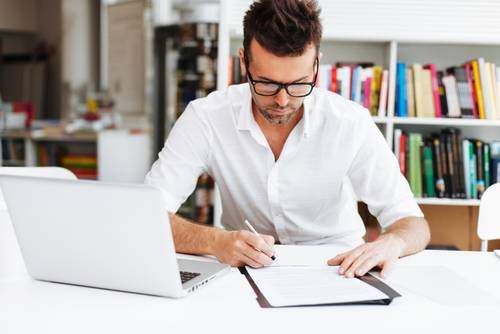 I agreed to outsource some work to another company after several discussions about what needed to be done and how and when it should be carried out.
We also discussed the cost and payment terms which were acceptable to both of us.
The vendor said, "Great, I'll send over a copy of our agreement." The agreement that arrived attached to an email was absolutely shocking! It had so many one-sided terms and conditions (none of which were on my side of course) that I almost refused to do business with the vendor.
The agreement said I had to give stock in my company as well as pay cash. But we had never discussed stock as compensation. It said I had to pay $100,000 in "damages" if I ever "breached any of the covenants of the agreement." But we had verbally agreed I was to pay only a couple thousand dollars per month for the services being offered.
"Oh, that's just our standard agreement" the other guy said.
"Oh, did you think I was just a standard moron and was going to sign it?" I asked.
What was he thinking? Such a disconnect between what you agree to in person and what gets written in the agreement creates a bad impression. It can create a situation where the agreement is used to drive the relationship rather than the original reasons for doing business.
Outsourcing Agreement Shouldn't be One Sided
Some people focus only on the agreement. It's as if they think you can look up a section in the agreement and learn how to treat the people on the other side.
Yes, the agreement is between corporations, theirs and yours, but ultimately, an agreement is between people. And no matter where people are from, my experience is they have a universal sense of fairness that you should not betray if you plan to work together for the long run.
Neither side should seek an unfair advantage through the outsourcing agreement. The agreement should document what you have already agreed to in principle through your discussions about the work to be performed, and how and when it will be paid for. It should be a clear statement of what is already agreed and should protect each other from the misinterpretations if either party is no longer in the picture.
There is an ultimate purpose both parties are aiming to achieve. It is the reason for having the agreement to begin with. It is the spirit of the agreement. It may be "spirit" but it is a real and palpable thing. If you seek out some other undeserved benefit, even if it is allowed by the words of your agreement then you are violating the spirit of that agreement.
And it probably won't work.
The buyer has the ultimate power in an outsourcing relationship because, the buyer can withhold payment. If your outsourcing vendor does not perform – you don't pay them!
Is a company in another country going to sue you over a final payment that is less than $25K or even $50K? Probably not because it is not worth the time, travel and legal fees required to make it happen. Therefore, an offshore vendor (or any vendor that is smart) will go the extra mile to make you happy with their services to ensure you pay them.
Should you take advantage of them and not pay them even if they do a good job? Of course not! If that is how you run your business then delete this eZine and please don't call me.
Most outsourcing agreements have two parts - a main agreement and then separate exhibits for each project or programming engagement. The main agreement covers basic legal terms and definitions. It is the contract that governs the relationship between your company and the outsourcing vendor.
Your main agreement should include these elements:
Independent Contractor Relationship – the outsourcing company is an independent contractor and their engineers are not your employees
Intellectual Property Rights – you own all intellectual property that is produced
Assignment of Copyright – to specifically assign the copyrights of the software source code to your company
Non-disclosure Obligations - defines your proprietary and confidential information and agreement not to disclose it
Term and Termination - the time length of the agreement and the rights for each side to end it
No Conflict of Interest - neither side agrees to enter into other agreements that conflict with this one
Noninterference with Business - neither party will interfere with the business activities of each other's company for some period of time
Force Majeure - limits the liability of both parties if work is interrupted by major acts of natural disasters like fire, flood and hurricane or man-made causes such as war, terrorism and government regulation or restriction
Assignment - the outsourcing vendor should be restricted from contracting out (or outsourcing your work) to another vendor without your written permission
Governing Law, Jurisdiction and Venue – if there is an issue, you will want the laws of your own state and country to apply
These are many of the important elements of an outsourcing agreement. There are a few other clauses and details that you will want to include. My purpose here is not to offer complete legal advice. You should use an attorney if you have any concerns and questions about the meaning and wording of your outsourcing agreement.
OK, but what about price? What about quality and responsiveness to bugs and problems? These details can vary from project to project or engagement. They are specified in separate exhibits added to the agreement for each one.
Each exhibit contains the statement of work which is usually copied from the proposal made to you by the vendor. It also contains pricing & payment terms and your agreement for paying other expenses.