Staying on top of software development trends in the face of talent shortages and tight budgets is easier said than done.
Industry leaders had to make hard resourcing calls as inflation pushed up costs across industries, and the economic outlook deteriorated. So what did tech executives who managed through a rollercoaster year learn about new software development trends, and what will they be doing in 2023 to help deliver performance despite ongoing challenges?
Accelerance assembled an expert panel drawn from our clients and other industry influencers. Get their direct lessons learned and insights to help navigate software development trends ahead.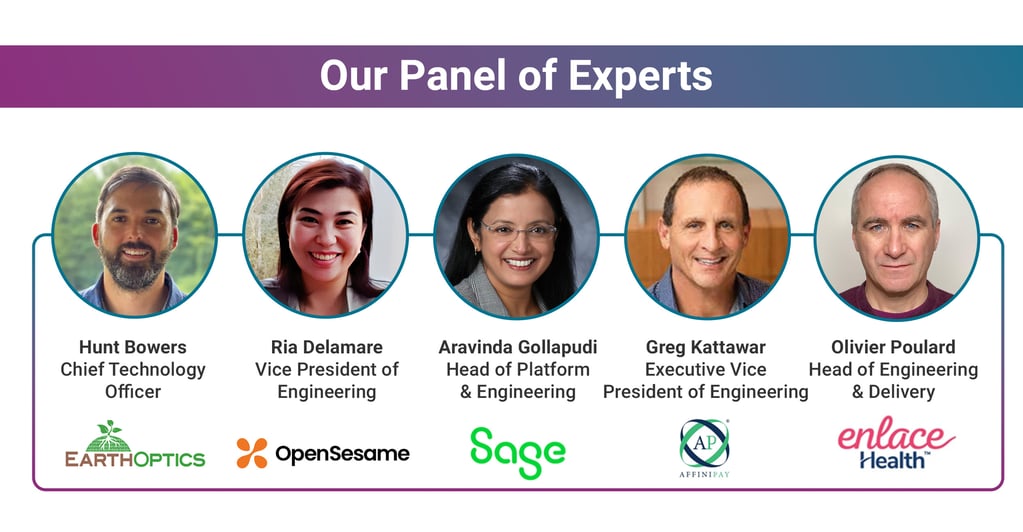 Hear what our panel of experts has to say from their front-row seats in the industry.
Hunt Bowers

- Chief Technology Officer at EarthOptics, an Arlington, Virginia-based start-up focused on real-time remote sensing applications of below-ground soil properties.


Ria Delamere - Vice President of Engineering at OpenSesame, a Portland-based educational technology company offering e-learning courses to students all over the world.


Aravinda Gollapudi - Head of Platform and Technology at Sage. Sage is a UK-based market leader in cloud business management solutions, supporting millions of small and medium-sized businesses globally.


Greg Kattawar - Executive Vice President of Engineering at Affinipay, an Austin-based payments solutions provider for accountants, lawyers, and associations.



Olivier Poulard

- Head of Engineering & Delivery at Atlanta-based Enlace Health, which bundles together healthcare services so that patients, healthcare providers, and insurance companies have better visibility into healthcare costs and quality of care.
Our IT leaders covered hot topics such as dealing with economic uncertainty, securing new talent, managing the new remote work reality, using outsourcing to their advantage, and what goal planning looks like in 2023.
TOPIC: THE GROWING ECONOMIC STORM
While all eyes were on the Federal Reserve for much of the year as it cranked up interest rates, and the stock market shed trillions of dollars of value as the outlook deteriorated, our featured companies were fully occupied getting on with business - and experiencing strong demand for their services despite the macroeconomic conditions.
Greg Kattawar of Affinipay: Affinipay's top-line revenues continued to grow in 2022, though at a slower rate than in previous years. Kattawar says, "I think it's probably just a little below what we had expected. The competitive landscape in our market heated up this past year, which is just normal market pressure. One of the things about the legal and accounting world is even when the economy isn't doing so great, people still need legal and accounting services."
Ria Delamere of OpenSesame: The picture was similar for OpenSesame, which rode the wave of explosive growth in the ed-tech market during the pandemic as schools, universities and businesses alike turned to e-learning platforms like never before.
"It escalated all of our plans so fast that it made our three-to-four-year plans almost imminent," says Delamere who joined OpenSesame in May 2021 as the ed-tech boom was in full swing. Still, the market conditions in 2022 saw Delamare slow down her rate of hiring software developers.
"Every marker is indicating that we are going into a recession. We want to have enough in our war chest to ride out the recession."
Hunt Bowers of EarthOptics: Business held strong for EarthOptics in 2022, as farmers turned to the company's sophisticated technology to help them accurately gauge the health of their soil and calculate the carbon it stores."Our revenue hasn't dipped; in fact, our bookings are way up," says Bowers.
EarthOptics undertook a well-timed Series A fundraising round in 2021, but 2022 posed a big challenge in the form of a serious supply chain shortage of computer chips and sensors that are crucial components of the company's equipment.
"We ordered 40 units in January or February of 2022 and we only received those units a month or two ago. We've changed our behavior, placing bigger orders sooner and shopping around so we have relationships with multiple vendors".
Aravinda Gollapudi of Sage: Accounting software maker Sage reported a healthy revenue growth of 5.5% in 2022. But from her base in San Francisco, Aravinda Gollapudi is watching the tech sector respond to economic headwinds after a decade of growth. "I don't think any recession is going to be here for too long. I feel like it will turn around. We'll be watching how the industry evolves. The bullishness has gone down. But we don't believe in RIF [reduction in force]. We believe in actively controlling our spending instead. We will be fiscally disciplined but we won't be penny-pinching."
Founded over 40 years ago, Sage has survived numerous economic downturns. "We've been there, done that. We're cautious about how things will go."
Olivier Poulard of Enlace Health: At Atlanta-based start-up Enlace Health, tech industry veteran Olivier Poulard is returning to first principles as he sets the software development agenda, implementing a new cost estimation methodology to make sure projects come in on budget and on time.
Poulard says, "Every decade, something comes along. Before COVID, it was the financial crisis, and before that, it was 9/11. These events had a profound effect on most businesses. So the main thing is to be prepared, have your plan in place, but have a plan B too."
TOPIC: THE FRUSTRATING HUNT FOR SCARCE, EXPENSIVE TECH TALENT
If you were running a software development team during 2021 and 2022, you faced white-knuckled negotiations trying to get talent onboard in the middle of an extreme developer shortage. The highly publicized layoffs at tech companies may now ease the situation a bit, but the talent shortage won't disappear in 2023 and beyond. Competition for senior and experienced tech talent remains fierce.
Most companies Accelerance approached agreed that a 20% salary increase was the norm for new hires in 2021-2022, with sign-on bonuses and equity stakes also used to secure staff.
Olivier Poulard of Enlace Health: The talent problem is fundamentally the same one it has been for the last 20 years, finding "the right skills and the right min
"It's more than just getting a Python programmer or someone who has experience with AWS. We want people who can engineer software, not just produce code."
Greg Kattawar of Affinipay: Affinipay hired a dozen new developers in 2022, with an additional 20 workers supplementing the company's resources through Affinipay's workforce outsourcing partner.
"On the hiring front, it eased up a little bit toward the second half of the year. I've had four conversations in the last week with people contacting me out of the blue, and on paper, they look like great candidates."
Ria Delamere of OpenSesame: The labor market continues to soften in 2023. Nevertheless, securing the right people is as challenging as ever.
"We are still having issues trying to fill development seats, even if there are a lot of talented people coming on the market. Everyone in tech is either in a hiring freeze or cutbacks. But there's still a need for core developers. The offers just aren't as ridiculous."
Hunt Bowers of EarthOptics: EarthOptics more than doubled its headcount to 67 in 2022.
"We hired a chief data scientist and principal engineers. We want the best people and were trying to recruit them from companies like Meta and Nvidia, but struggled to do so.
"Now there are a lot of people coming on the market, half of these coming from these big tech companies with great credentials."
Aravinda Gollapudi of Sage: Sage saved on development costs in recent years thanks to remote work opening up access to some more affordable sources of talent domestically and internationally.
"We didn't have to hire in high-cost regions such as the Bay Area anymore. We were able to hire in lower-cost markets such as Atlanta."
"Even in India, we hired people in more remote locations with good colleges and talent pools. Even though we were already pretty efficient, this helped drive our labor costs down further."
Olivier Poulard of Enlace Health: For a start-up like Enlace Health with venture capital funding, matching the hefty increases demanded by developers and their recruitment agents wasn't always possible.
"I fly airplanes and I know that I want to use as little runway as I can so if I'm in a dire situation, I can use the rest of the runway to slow down the plane. At Enlace we have a reasonably long runway, but we have to be lean and efficient."
TOPIC: THE GAME-CHANGING IMPACT OF REMOTE WORK
While working virtually was the reality for many software developers before the pandemic, the wholesale shift to remote work as a result of widespread lockdowns has had a profound impact on where and how teams collaborate. Our panelists shared the changes they've made to adjust.
Hunt Bowers of EarthOptics: EarthOptics now has an in-house team of 16 engineers, but it was split between Virginia and North Carolina when COVID-19 struck. The company needed to grow through 2020, so they started hiring remotely too. Now, it has software engineers spread across the country, from New York to Florida and Seattle.
"We just posted a position for a hardware support technician. So they've got to be local to Raleigh. We had five applications. When we post a software engineer position as a remote role, we have 75 applications within a week. We have an engineering off-site once a year where we rent a big house and bring everyone together. This year we went to Minneapolis. It was invaluable team building having everyone hang out together for a couple of days."
Greg Kattawar of Affinipay: At Affinipay, most of Greg Kattawar's team was within range of the Austin office prior to 2020, though many often worked from home. Now, around 10% of Affinipay's software developers are remote, with employees based in South Carolina, Florida, Oregon, Arizona, and beyond.
Affinipay has therefore put increasing emphasis on team learning and socializing opportunities. Software engineers will host sessions for colleagues to walk them through the design and development process for new product features.
"We've lost those ad hoc conversations with folks in the office where you can quickly ask questions and learn stuff. So we do more in-house training around our own software now."
As remote work arrangements became a bargaining chip for developers in a tight labor market, Affinipay began to offer that model to new employees. Existing employees also sought the opportunity to move further away from Affinipay HQ. Kattawar says the new reality works well, thanks to Slack, video calls, and agile practices.
Aravinda Gollapudi of Sage: Sage has tech staff all over the world and has embraced a hybrid model in locations where it has offices. The accounting software company still has offices with a plan to return to a regular schedule of onsite work. "We no longer think twice about where we work. We are still trying to gravitate to a solution where there is an office to come to at least twice a week."
Sage has focused on critical communication skills to make remote work a success. "First-line folks are even more important in the new culture, and team leaders play a huge role because they are talking to people directly. We've had to change and implement multiple modes of communication."
TOPIC: THE CRITICAL ROLE OF WORKFORCE OUTSOURCING
During 2022, workforce outsourcing was one of the hottest software development trends, proving its worth in helping technology leaders manage through record resourcing shortages and developer rate increases.
Hunt Bowers of EarthOptics: Accelerance helped EarthOptics secure the services of an outsourcing partner in Pakistan. "The team has been excellent so far, extremely competent, and easy to work with. We have two other projects that we're considering adding to that team so that they can tackle those projects. The value proposition of nearshoring, or outsourcing, is lower costs. That will remain true in 2023 and beyond."
Ria Delamere of OpenSesame: The forced adoption of remote work made companies more open to workforce outsourcing - which is anchored in distributed resourcing practices. "Everything doesn't need to be developed in the US."
She sees strong partnerships with IT outsourcing firms as incredibly valuable to OpenSesame's software development strategy. The company, which currently works with an Accelerance software partner in Mexico, takes a global view on recruiting development partners.
Development costs in Latin America had risen, in line with the results of a recent Accelerance survey of development firms in the region which found that double-digit price increases were common in 2023 and will continue for years to come.
The door on OpenSesame's relationship with Ukrainian IT outsourcing firms "closed very, very quickly" with the Russian invasion, leading Delamere to explore other outsourcing markets, including the Baltics, Poland, and other adjacent European regions.
Olivier Poulard of Enlace Health: Poulard, who handles workforce outsourcing, sees an appetite for increased outsourcing in the years to come as pressure on IT budgets mounts. He points out that lengthy recruitment processes to get in-house staff onboard make outsourcing an attractive option for ramping up projects quickly.
"Workforce outsourcing primarily as a means to reduce costs is the most stupid thing that you can do. You use offshore to scale and be smart about it. I think we're going to increase our offshore outsourcing capacity, for the sake of scalability."
Greg Kattawar of Affinipay: Kattawar says the need to achieve cost savings in economically strained times definitely makes outsourcing more attractive.
"I think when times are a little tougher, then the cost matters more and outsourcing becomes more attractive. If we can get more people outsourcing for the same dollars, that might be a good route for us to go. I don't care what state you live in and the country doesn't matter that much as long as the timezone is close enough and you have a good level of English."
TOPIC: PERSPECTIVES FOR THE YEAR AHEAD
It speaks to the ubiquitous nature of technology that virtually all our panel of experts is optimistic about the evolving software development trends, despite the prospect of recession. Digital transformation will march on this year.
Olivier Poulard of Enlace Health: Enlace Health also anticipates buoyant demand in the future as consumers seek more visibility into their health costs. However, the company has some major infrastructure changes to make. Sporadic outages at cloud provider AWS disrupted Enlace services in late 2021 and convinced Poulard of the need for better technical redundancy.
"In the years ahead, we will go from a single region to a multi-region type of architecture. We're also going to go from a single to a multi-tenant architecture because it's not viable to add a new system for each customer. To reduce operational costs, we are moving to a serverless architecture. It means that we will mainly have to deal with software needs, not infrastructure."
The changes are about reliability, scale, and cost efficiency, all themes that percolate through IT leaders' plans for 2024.
Ria Delamere of OpenSesame: OpenSesame is carefully tracking customers' budgets to see what the trend for the year ahead will be. "Everybody is locking down their budgets so they're not spending or renewing as fast as they used to. We were definitely keeping a close eye on our sales numbers in the first quarter and first half of 2023."
Delamere echoes the sentiments of the others in her determination to continue to focus on innovation as the economy worsens. "We're not taking the foot off the gas, we're just being more efficient in how we do it. We're still wanting and needing to innovate in machine learning in our models for example."
Aravinda Gollapudi of Sage: The increased pace of digital transformation means that IT projects that used to be considered special investments are now considered core business initiatives, crucial to the organization's overall success.
"Our customers have actually accelerated their digital journey which means we need to innovate even faster to keep up with their needs. If anything, we are pushing a little harder on it now. It's not like in the 1990s when we had to spend a lot of time and energy implementing and building things. Now people just expect it."
Greg Kattawar of Affinipay: Kattawar doesn't see a further downturn in the economy disrupting Affinipay in a major way. However, he expects customers to be more conservative with their spending.
Affinipay's software team is unlikely to grow at the same rate as in 2023. The company is taking a long-term view, building the future talent pipeline by expanding Affinipay's internship program.
"We've been bringing in these bright college kids, getting them to intern for a couple of years, and giving them a job when they graduate. They know our code, and they can hit the ground running. There's literally no downside."
Hunt Bowers of EarthOptics: All of our panelists are realistic about the prospect of worsening economic conditions overall in 2023 and beyond, but most see demand holding up in the high-growth industry sectors in which they operate.
"We are expecting a recession, probably by the middle of next year and they typically last 12 - 18 months. But we don't expect changes in our revenue bookings. Agriculture is a critical industry, and there's very little that can disrupt that, so we are looking to keep hiring in 2023."
Thanks to our expert panel for sharing their insights on the factors shaping software development trends at a time of breakneck change in the industry.
Connect with an Accelerance advisor to find out how you can tap into the best software development talent in the world.
Find your partner anywhere in the world.
Finding the right software outsourcing services partner isn't easy. Pass us the burden. We'll find you your partner, help you onboard, and get you to where you want to go — fast.
Get Started