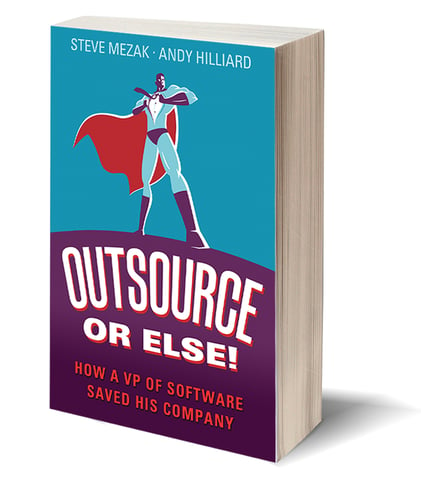 The day has finally arrived – it's release day for the latest book my colleague and Accelerance President, Andy Hilliard, and I co-wrote, Outsource or Else! How a VP of Software Saved His Company."
Our original idea for "Outsource or Else!" was to write a sequel to my first book, "Software without Borders: A Step-By-Step Guide to Outsourcing Your Software Development" because a great deal has changed in global software development since it was published, with new technologies emerging like iOS, the Internet of Things (IoT) and everything moving to the cloud. Plus, there has been a surge of software development expertise in new countries - from Armenia to Vietnam.
These developments have created a wealth of opportunities with outsourcing that so many tech companies are missing out on, and we want to open their eyes to the opportunities that these partnerships can deliver. Unfortunately, we've found the audience for a how-to book on outsourcing is limited because many people think that the practice just doesn't work. They either had a bad experience themselves or heard through the grapevine that outsourcing just doesn't work. But that's what we call "Outsourcing 1.0." During the era of Outsourcing 1.0, many business leaders were under the impression that they could only outsource to India and that the only reason to outsource was cost savings, which often sacrificed product quality – to disastrous end results.
We've seen more recent software outsourcing deliver excellent results with what we call "Outsourcing 2.0." It has proven to save companies time – and, yes, money – in the process. This method encourages those considering outsourcing their software development to take their time when considering their options from across the globe in order to optimize the end results.
So, we decided that the best way to show how Outsourcing 2.0 works is with a story – a "business fable," if you will. "Outsource or Else!" reads like a novel rather than a how-to book, which is sure to keep readers entertained while taking you on a journey with a fictional tech company that faces the very same pain points that other companies are facing today. Every software professional -- either with experience in outsourcing or who has never tried it -- is faced with increased pressure to deliver more innovation in today's rapidly changing business environment (much like our distressed hero, Jason). All will see a bit of themselves in Jason and share in his challenges and struggles brought to life in the pages of "Outsource or Else!"
Our hero Jason is the VP of software at a startup in Silicon Valley called ShapeShift that develops cutting-edge fitness technology. When Jason learns that the software development of its next product will need to be outsourced, he's certain that the company is doomed – all because he is stuck in an Outsourcing 1.0 mindset. Nevertheless, the fate of ShapeShift rests on Jason's ability to navigate a safe path through the uncharted waters of outsourcing his development.
In the book, we personified the fear of outsourcing failure in Rick Looney, a mythical character who suffered such a horrible sequence of software outsourcing disasters that it caused his entire company to fail. Looney's infamous tale is the reason everyone in the book's Silicon Valley tech world avoids software outsourcing.
"Rick Looney was the unquestioned emblem of why no one in the Valley wanted to go near software outsourcing with a ten-foot pole."
Although readers have been relishing Looney's tragic tale, Jason does not want to become the next Rick Looney (and we expect none of our readers do either!). Like Jason, if you're considering outsourcing your software development, you must find a way to make it work—and fast! (Some early feedback for "Outsource or Else!" showed readers enjoyed the Rick Looney character so much that they proposed a prequel— and we're considering it!)
Fortunately, Jason finds a mentor, Patrick Delaney. He defines Outsourcing 2.0 to an audience of skeptical software engineers:
"Patrick grinned—a roguish, Cheshire cat smile that showed all his teeth. "My friends," he said, "that version of outsourcing [Outsourcing 1.0] was doomed before it began. This is the new world— 'One World.' Modern software outsourcing, or Software Outsourcing 2.0. We are going to deliver this software together—us and the outsourced team. We are going to create a feature, review it, and move on to the next feature together, all on the same page, one sprint after another. Because the outsourcers are not the cheapest slave labor we can find. They are our partners."
Patrick explains the benefits and course of action for this new, more effective method of outsourcing. Later, he introduces Jason to the "Seven Keys of Successful Software Outsourcing," which we collected in Appendix A of the book as a convenient reference.
Of course, it's not all smooth sailing for Jason as he runs into a series of real-world challenges and obstacles, including objections from within his own company (who can't relate to that?). For example, the CFO of the company isn't happy when Jason returns from his whirlwind trip around the world to meet with potential outsourcing development partners, having chosen a more expensive company in Latin America rather than less expensive options elsewhere. The CFO declares that this decision will sink the company in the long run.
Will Jason persevere and make Outsourcing 2.0 succeed? Or does Jason become "Rick Looney: The Next Generation?" Will ShapeShift's CFO prevail, causing Jason to use the cheapest programmers on the planet? Suffice it to say, we could have titled the book "Outsource 2.0 or Else!"
With Jason's story, we offer an inside look at all that goes into outsourcing a software development engagement. "Outsource or Else!" can be used as both a reference and a guide for your outsourcing needs. While it's a tech fiction story, it provides a realistic view of how many companies navigate the outsourcing process, initial hesitations and all.
Software outsourcing is an underrated practice that can deliver great returns for tech organizations of all sizes. Andy and I sincerely hope you enjoy our new book and that it leads you and your company to the path of extraordinary new levels of success!
You can order "Outsource or Else: How a VP of Software Saved His Company" here. Or, you can download a digital copy here.
If you want to engage with a new software development partner, or you're starting a new project that you think would benefit from an outsourced engagement, contact us. We'll search the globe for the right partner for your business.