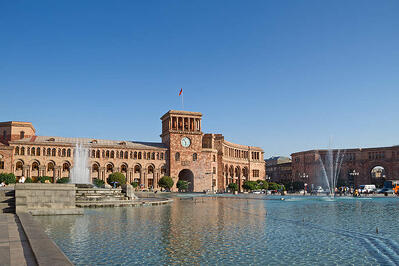 Armenia may be a small country, but it has a big history that makes it stand out. Recent archeological evidence shows Armenia has been impacting culture and technology for thousands of years. At the same time, the natural beauty of Armenia continues to draw more visitors every year.
Here is some information on how Armenia's cultural legacy continues to define this country right into the modern age.
Discovering Armenia
Armenia is often in the news for its modern accomplishments and growth story, but the past keeps turning up new discoveries that illustrate just how important the country has been. Armenia is not just an innovator today, but recent archaeological discoveries demonstrate how Armenia has been changing the world since the very beginning.
Just recently, the oldest shoe in the world was discovered on a dig in Armenia, and considering it's 5,500 years old, many are amazed at its modern design. At a separate site, the oldest wine press in the world was also discovered, illustrating how Armenia also contributed the gift of libation to the world.
The Garden of Eden
Although the Garden of Eden is an essential part of the Bible, many put the location of the actual Garden of Eden inside Armenia. Regardless of whether you find the real Garden of Eden, the natural beauty of the country inspires poetry and anyone's imagination. Sights such as the Mount Ararat not only draw hikers and nature lovers, but it also figures in highly into Armenia's history.
It is said that Noah's Ark landed on the peak of this mountain during the Great Flood, underlining the importance of this mountain dating back to Biblical times. Mount Ararat is also the highest mountain in the range Great Armenian Highlands, and a potent image of Armenian national pride, with the mountain said to be home of the Gods and a symbol for the country.
100th Anniversary of the Armenian Genocide
Despite Armenia's recent successes in the international markets and business, the country has a sad past. In 2015, the country will commemorate the 100th anniversary of the genocide that killed over a million Armenians at the hands of the Ottoman Empire. Although the event transformed Armenian history, Armenians will try to honor the disaster with expressive works of literature, concerts and theatre, helping the country to come to grips with its past.
Armenia continues to be defined by its past and future, with Armenians increasingly separating themselves through their skill in business, technology and the arts.
Accelerance is helping connect those interested in utilizing Armenian programmers for application development, while also highlighting this interesting and innovative country, its struggles, and contributions to society.