Labor costs, talent shortages, and hiring challenges -- sound familiar? You're not alone. These are the top pain points that continue to plague the software industry which makes outsourcing your company's software development a smart solution. Access to leading technologies, adherence to best practices, decrease in time-to-market, and deep pools of high-quality talent are just a few benefits you can expect - when done right.
Cue: Bogotá, otherwise known as Bogotá, Distrito Capital, -- the capital of Colombia and a thriving tech hub. The centralized Colombian city continues to further its technology presence by increasing startups, IT programs and companies, and software developers. The increase in the tech industry is partly influenced by the Colombian government, which plans to provide individuals and companies in the IT industry with tax incentives and professional training programs to further its technology growth.

When many companies think about offshoring or nearshoring -- most of the time they're just thinking about rates. Is a cheaper rate really going to be the best bet to successfully outsource your software? Not always. What's really important to Accelerance is making connections with real people. Being able to spend face-to-face time with our existing global partners and get to know them is more valuable to building quality software.
"Quality" is not necessarily defined by technical skill and experience alone. It also includes a team's ability to learn, work collaboratively, maintain clear communication, and fit in with your company's culture and core values. In other words, you need EQ (emotional intelligence quotient) as much as or even more than you need IQ.
Travels to Vibrant Bogotá - Software Development Outsourcing Hub
Accelerance recently traveled to Bogotá, Colombia to reconnect with one of our top global partners, spend time with their employees, and hosted working sessions. To us, building and spending face-to-face time with our partners is top priority as we continue to build lasting relationships. (We even outsource our software needs to our global partners!) To us, getting to explore our partners culture is critical to building quality software and lasting relationships.
The Accelerance team got the opportunity to really immerse ourselves into Bogotá's vibrant, and unique culture. We want to make sure we cover our due diligence of properly vetting and verifying our partners, but it's not just about checking technical items off a list. We also want to get out and really see the country's special traits to get a better sense of our global partner's stomping grounds.

First stop: dinner and live music at Andrés Carne de Res, one of Bogotá's top party spots with eclectic Latin American food offerings. We enjoyed dinner, drinks, and local music with our service providers. To get a glimpse into the restaurant and the upbeat music, check out the video above!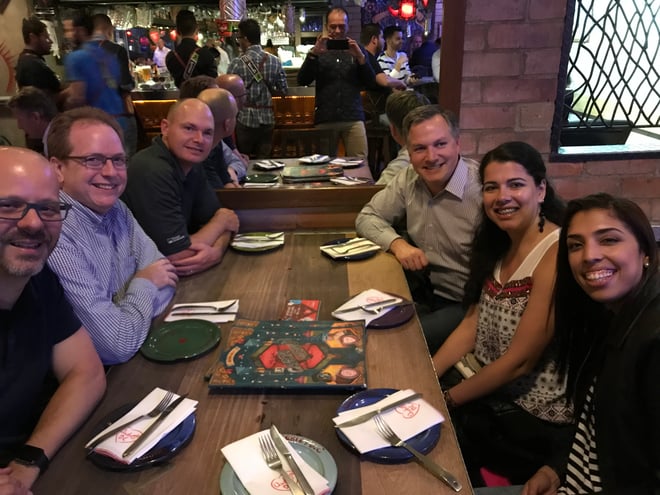 The Accelerance team and our global outsourcing partners at the infamous, Andrés Carne de Res.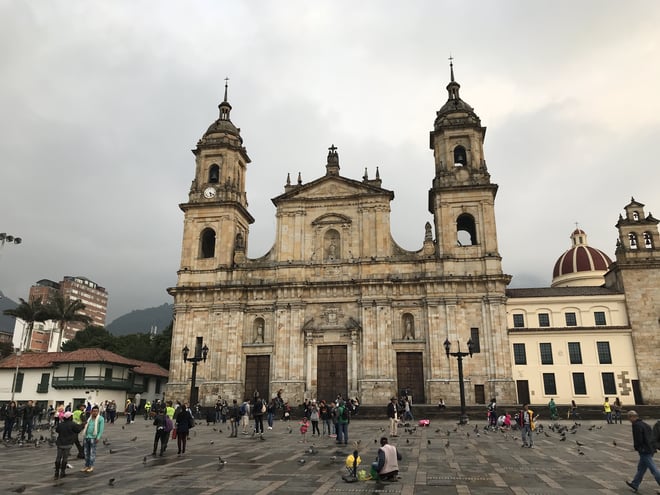 Congreso de la República de Colombia
Next up, Congreso de la República de Colombia -- otherwise known as the Congress of the Republic of Colombia. We got the chance to visit the beautiful grounds where guards stood outside the legislative branch's rod iron gates in custom garb.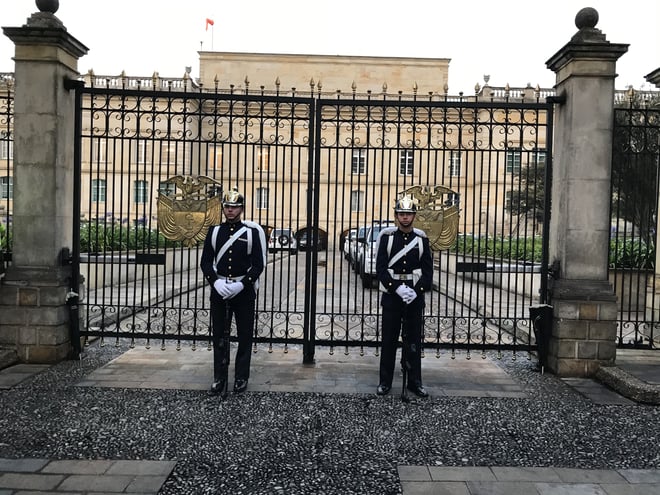 Travel Tip: While traveling around Bogotá, our team used the Uber app. Although Colombia doesn't have a law that allows Uber, there's also not a law that says it's illegal. During our travels, we found that the drivers were friendly and the app worked well.
We also visited the Museum of Gold, which is one of the most visited tourist highlights in the country, and displays collections of pre-Colombian gold, metals, pottery, wood, textile objects and more.
Next up -- the Botero Museum, which features artwork by the most important international art collections. The museum was founded in 2000, when Colombian artist Fernando Botero donated 208 pieces of artwork to the Bank of the Republic. Botero was best known for his paintings and sculptures which featured proportionally exaggerated figures. Check out our photos from the museum below.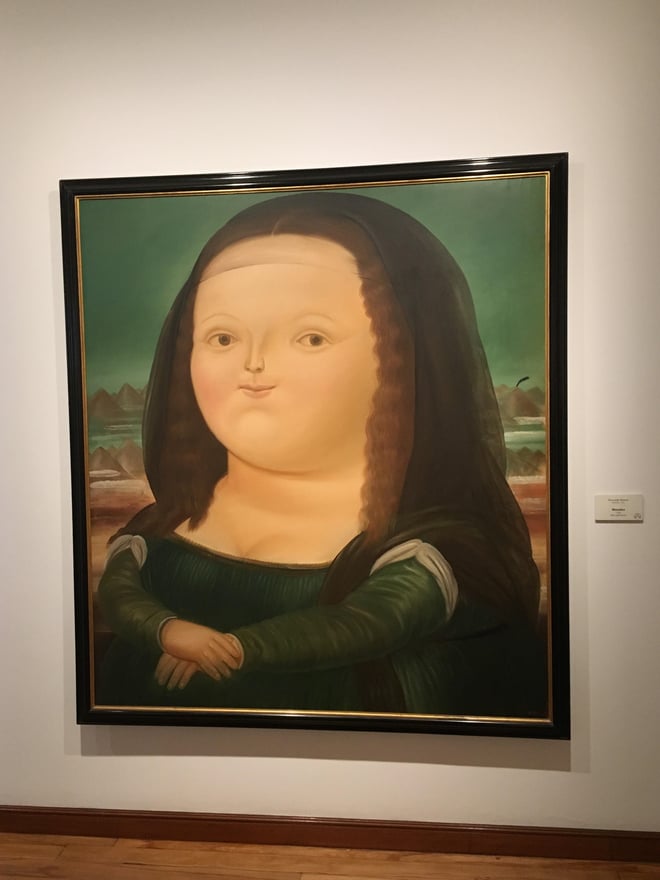 A piece of Botero's exaggerated features collection.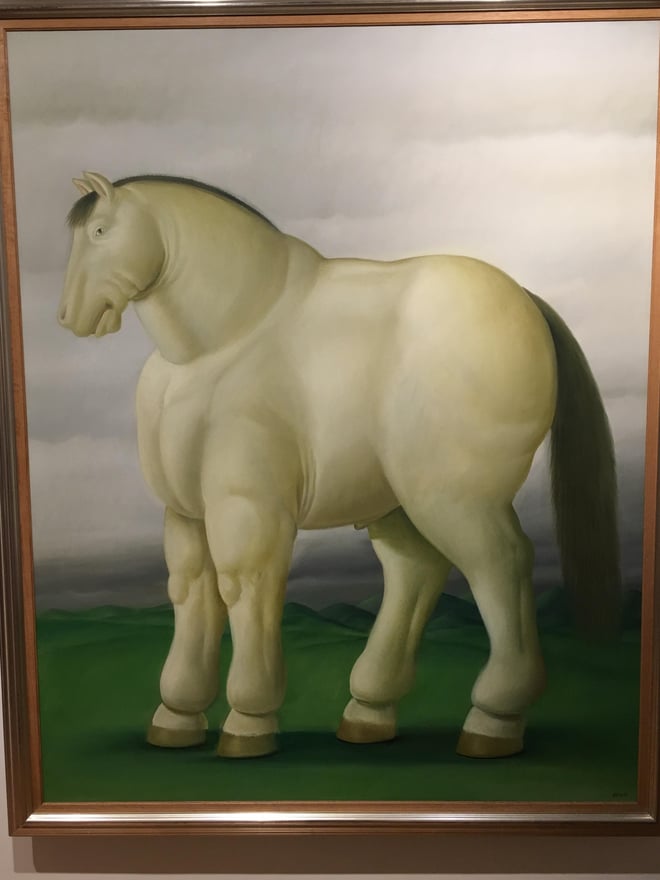 Cerro De Monserrate: Climbing to the top of the sacred Colombian hill
In just 15-minutes, we made our journey to the peak of Cerro de Monserrate, the focal point of the center city of Bogotá. At the peak of Monserrate, we were able to enjoy a stunning panoramic view of the entire city.


At Accelerance, we want to help you find the custom software development teams you need to build successful software. To us, the climb is just as important as enjoying the view at the peak or the finished software. Let us help you outsource with confidence. Talk to an Accelerance advisor today.
Want to see more of our software travels? Check out our other "Spotlight On" blogs featuring travels to Sri Lanka, Peru, Puerto Rico, India, Pakistan, Brazil, Southeast Asia, Eastern Europe, Africa, and more.