For years Accelerance essentially ignored Brazil as an outsourcing destination because their economy and in-country demand for services were strong which meant software development rates were relatively high and motivation to assemble the right talent to serve clients outside Brazil was low. But, that's changed. In recent years, the USD has strengthened against a weakening Brazilian Real. And a strong dollar in a country that has great software talent means it's time to outsource to Brazil.
Accelerance investigates software development companies in Brazil
Accelerance has investigated software development companies in Latin America before and we've written about outsourcing to Argentina, Columbia and Peru, but this was our first trip to Brazil. We just completed the second half of our Latin American tour where we discovered impressive outsourcing companies. When I first learned we were headed to Curitiba, like the geo-challenged American that I am… I had to look it up to learn where it was.
---

Download the 2018 Guide to Software Outsourcing in Latin America
---
Curitiba - a modern city strong in software development
Similar to other Latin American locations, we found Curitiba to be a modern city (we heard it compared to Toronto), an expanding software development industry with deep pools of talent, top universities with strong technology programs, and experienced professionals specializing in Java, .NET, Microsoft, Python, IoT, system migrations, and system integrations.
According to the research, the growth seen in the Brazilian IT industry is way higher than the world average of 5.6 percent. Brazil is now the sixth largest IT market in the world, behind the UK, Germany, Japan, China, and the US.
---
"Hailed as a top country for software development, Brazil has the largest population of Java developers in the world. For legacy systems and enterprise development, the country ranks 2nd (after the US) in mainframe developers with an experienced pool of COBOL professionals. You'll also find software developers working in strengthening technologies - especially in mobile and IoT. The Brazilian government is expected to invest $4.6 billion in IoT in 2017."
---
We were more than impressed with the software development companies we came to meet. Company leadership, senior developers, project management processes and deep experience with successful outsourcing. Check out this video from Ryan Schauer, one of our Project Managers to learn more about the software companies we met in Curitiba.

---

Download the 2018 Guide to Software Outsourcing to Latin America

---

Floripa - The Silicon Valley of Brazil (and one of the world most beautiful beaches)
Florianópolis (a.k.a. 'Floripa') has drawn the moniker of the Silicon Valley of Brazil due, in part, to the physical likeness it bears to its namesake. However, beyond the iconic suspension bridge and beautiful oceanfront properties, what really draws the similarity is Floripa's growing IT industry. Since the 1990s, Floripa has emerged as a haven for technological development in Brazil. For example, check out the $1.3 billion investment by the Brazilian government in science and technology, Sapiens Park. In short, the growth of tech industries and standard of living in Floripa make it an attractive location for outsourcing.
The company we visited had a culture that would rival any software company in the Valley - complete with unlimited food, snacks, beer and soft drinks, office segway, office dogs, ping pong table, company rock band, a hip open-work space, fun company swag, and a not-surprising 300% growth rate over the past 3 years. We spent 2 days with company leaders and grilled them with our due diligence questions to go beyond the uber-evident cool factor and ensure these guys have serious substance. They did not disappoint.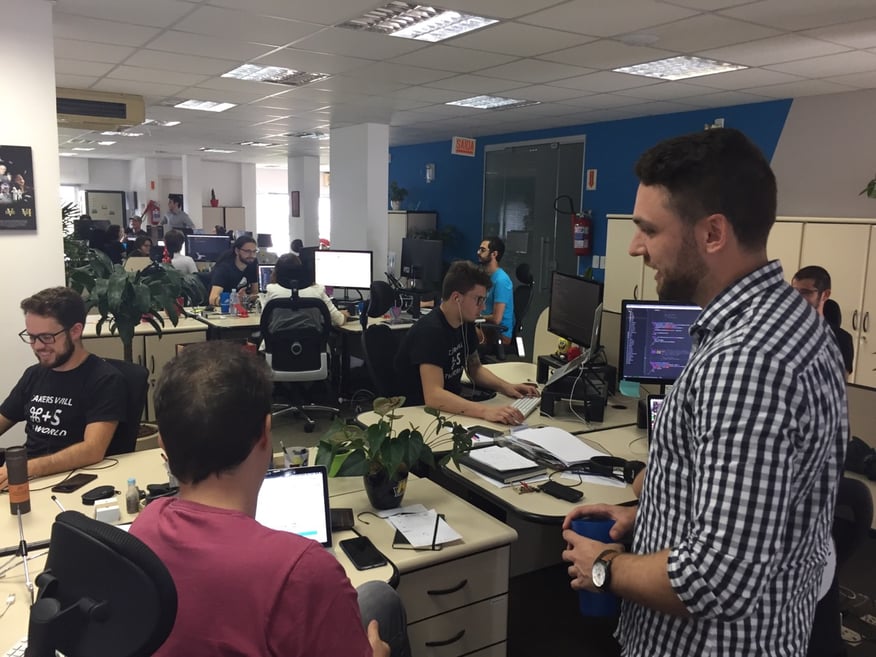 Your best business trip of the year
You'll want to invest in significant face time with your global partner - no matter what the destination - to create a true bond and extended partnership that leads to long term success.

Of course software development outsourcing shouldn't be all work and no play. Your visit to your outsourcing partner in Brazil will be your best business trip of the year. Curitiba or Florianópolis are easy to get to from most US cities. And once you're here, there's no end to fabulous food - from fish to fruit to pasta and famous Brazilian beef.

In your time off - and you should definitely take some time off - visit local attractions such as German or Italian villages or hike in rainforests just a short drive away. One of the world's largest and most amazing waterfalls, Iguazu, is less than an hour flight away.

Our tour of Latin America couldn't have come to a better end as we sat with a team of software developers on a beach, on an island, sipping caipirinhas and watching the sunset. Your visit to Brazil could be next. Don't hire your next software outsourcing team without talking to Accelerance first.