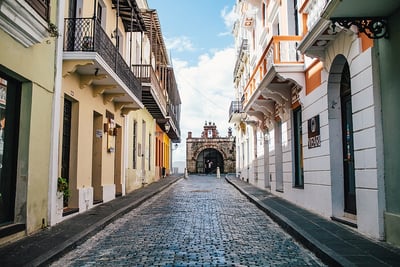 The U.S. territories like Puerto Rico, Guam and Saipan offer many great advantages when outsourcing software development, such as cost savings, good workday overlap, and compliance with U.S. law – an important consideration for working on government projects.
While each has a rich culture and history all their own, they are still a part of the United States and their residents U.S. citizens, creating opportunities for the alignment of values and cultural similarities. Furthermore, the official currency is the U.S. dollar, English is an official language and each has its own outsourcing specialty.
If you decide to outsource out of the mainland U.S., but you would like the ease of working with a company who understands US work culture, then outsourcing to the U.S. territories may be for you. However, there are a few things you'll want to know first.
Puerto Rico
Located around 1,000 miles east of Miami in the Caribbean, Puerto Rico is very easy to get to; it is only a 2.5-hour plane ride from Miami and 3.5-hours from New York City. Puerto Rico became a U.S. territory in 1898 and is the most populous of all the territories. Today, Spanish and English are both official languages of the island and most of the citizens are familiar with the geography and culture of the mainland United States. Puerto Rico is only four hours ahead of California and only one hour ahead of New York, so workday overlap here is very easy to find.
Although Puerto Rico does have its own unique customs, cultural similarities with the U.S. abound in the workplace. Although English is one of the official languages - it is taught in schools and most people receive technical training in the States at some point - Spanish is definitely the more dominantly spoken language. But English, is the language of business. The business culture is very similar to the States, with a slightly more relaxed feel. For example, when greeting each other, men shake hands, women kiss on the cheek, and men and women kiss on the cheek; and it is normal to stand in close proximity. It is also best to address people using their professional titles. Just remember to try to not come across as too aggressive or openly criticize someone, since this is considered poor manners.
The U.S. territory has been experiencing incredible growth as a prominent destination for IT and software outsourcing. Puerto Rico-based IT resources can offer major cost savings, and have advantages way beyond their lower costs. Through the full support of federal and local governments, Puerto Rico has generated an attractive outsourcing environment composed of a highly educated population, a culture of technology experts dedicated to delivering excellence along with a technologically advanced and highly scalable infrastructure.
Puerto Rican partners are passionate about innovation and have a dedication and commitment to superior customer service. They have proficiencies in web development MVC, MS SQL Server, T-SQL, C++, Java and website design. Proximity is a huge benefit when making the decision to outsource your software development project to Puerto Rico.
Guam and Saipan
Guam and Saipan are both located in the Northern Mariana Islands in the Pacific Ocean. Unlike Puerto Rico, they do not have the same advantage of workday overlap. The island is 15 hours ahead of East Coast time, 18 hours ahead of the West Coast and a flight there could take 20 hours or more. However, they are still U.S. territories, so the currency is in U.S. dollars and the official languages are English and Chamorro, the native language.
They both have a proud island heritage that has been influenced by American, Spanish, Filipino, Mexican and Japanese traditions. But their native culture still reflects the influence of the indigenous Chamorro people. Both islands' varied geographic features and ideal position within the Pacific basin, supportive business environment, stable and permanent political system, and welcoming culture are major pluses to working with an outsourcing company there.
These partners' core capabilities include Microsoft technologies, Java, Oracle, HTML5, CSS3 and website design.
Each of these islands is full of bright opportunities for business. However, if you are not running a twenty-four-hour business and you prefer all-day overlap, outsourcing to Guam or Saipan may not be the best choice for your project.
Nearshore software development outsourcing can be to your organization's great advantage. U.S. territories offer some great outsourcing opportunities, with lower costs than the mainland but have tight cultural and economic ties. Business can be conducted even more effectively if you also understand the cultural influences of each territory.
All of the territories protect individual and corporate rights through the American judicial system and U.S. laws, including those that relate to copyright, trademark, patent regulations and the protection of intellectual property. Having a partner that is trained and educated, and who follows the same standards and regulations as your team can be the difference that makes your remote software development team – and consequently your software development project – a success.
Accelerance Partners in U.S. Territories
The ecosystem of Accelerance Certified Expert (ACE) partners includes companies from the U.S. territories that have been thoroughly screened and vetted. These ACE partners have an excellent command of the English language and have agreed to Accelerance's terms for intellectual property protection.
Accelerance has spent 15 years reviewing over 6,000 global companies to develop its global network of 50 partners in 30 different countries. These firms use the latest technologies, hire from the best colleges and universities and have developed company cultures that enable them to hire and retain the best talent.
Interested in outsourcing your software development work to a U.S. territory? Contact us today and we'll help you find the right development team.