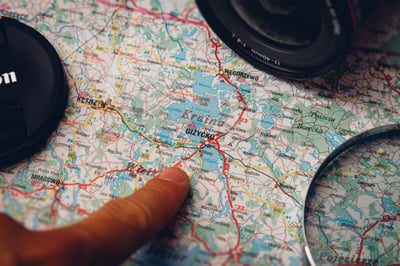 Organizations are looking beyond age-old software development outsourcing standbys like India to augment their teams as shorter project timelines loom and pressures mount to develop more cost-effective end products.Those that do are discovering a pleasant surprise in Eastern Europe, a region that uniformly provides highly educated and skilled software engineers – and great budget benefits – a boon for companies who choose an outsourcing software development partner from the area.
The former Soviet Union and countries of Eastern Europe, particularly those behind the "Iron Curtain," placed a particular emphasis on educational programs rich in engineering and the sciences. Because of this, this region today has many highly skilled professionals in areas such as computer science, but at much lower labor costs than Western Europe and as low as India in some cases. By cost, the market separates into two segments: Ukraine, Belarus and Armenia (lower cost) and Poland, Hungary, Bulgaria, Romania and the Balkans (higher cost). All countries in the area have solid expertise in data, algorithms and embedded systems.
---

Access the Globe with Accelerance.
Download the 2018 Guide to Software Outsourcing in Eastern Europe.

Download ebook
---
Today, Eastern Europe leans towards a very Western European business culture, adopting Western institutions, rules and social norms.
"When it comes to outsourcing, some companies have found that Eastern Europe has a clear advantage in contrast to places like India because of the cultural similarities and a more collaborative approach to projects."
Eastern Europe's growing labor market, drastically lower employee attrition rates than India and China, and intellectual property (IP) protection that adheres to the European Union's Data Protection Act are all benefits of outsourcing to this region.
"When outsourcing to Eastern Europe, you'll be following in the footsteps of many large, successful companies that believe the region is an exceptional outsourcing location for software development services. Romania and Poland, in particular, have established themselves as two of the most promising outsourcing locations in the region."

Romania
Situated between Eastern Europe and the Balkan Peninsula, only one-hour time zone ahead of Western Europe and just a 3-hour flight from London, Romania has become a thriving technology center. Now a member of the European Union (EU), the country has one of the largest populations of IT professionals in Europe. Some have nicknamed Romania Translyvania's own Silicon Valley, boasting a deep talent pool of IT professionals that rank the small country in the global top 10 of certified IT specialists.
Although Romania doesn't offer the lowest prices, its services are still less expensive than those offered in Western Europe or the U.S. Plus, if you take into account the high level of technical skills, Romania is highly competitive. "Romania won't lose its outsourcing advantages soon. The culture and the proximity to Western Europe will remain," said Romanian Employers' Association of the Software and Services Industry founder, Andrei Pitiș.
The country has been seen continuous development, which has largely been supported by outsourcing companies. Many companies go to Romania hoping to hire specialists. Microsoft, IBM, Oracle and several other Western companies have employed thousands of IT specialists in Romania. Their skills are superior in technology platforms such as .NET, LAMP, Java and C++.
Price isn't as important as it once was, particularly considering slightly higher costs can likely mean better service and results. Bucharest is Romania's largest outsourcing hub, which likely has the largest and most diverse software development services talent pool. In addition, the country is creating new developers—the number of developers should increase by 7,000 a year taking into consideration how many young people are studying the subject.
The country has close ties with Western Europe, as well. Because of this, its young and motivated professionals have European values and are highly proficient in English. Many are fluent in other languages in addition to English, such as German, French and Italian, which are all a large part of Romania's appeal. Other major attractions are participation in the EU and strict IP laws.
However, you might want to reconsider choosing Romania as your outsourcing destination if your project requires significant amounts of travel or demands more overlap with your workday in the U.S.
Poland
Poland continues to rise thanks in part to the outsourcing IT services industry, which has undoubtedly contributed to reshaping the country and renewed its economy. The country has emerged as a regional leader in the delivery of outsourced development services.
Aside from economic and political stability, one of Poland's key assets is its large and skilled workforce—the largest in Central Europe. Poland even tops Romania on Tholon's most recent Top 100 Outsourcing Destinations report, which includes several other Eastern European countries, as well. The city of Krakow came in ninth place and Warsaw at twenty-fifth in the rankings, moving up five places from 2015.
Poland continues its ascent due to the country's high technical and language skills. Polish business leaders have openly expressed their goals to encourage larger companies to open technology development centers and create jobs the. Large American companies such as IBM, Intel, Google and Motorola have already set up operations in the country.
Other benefits of outsourcing to Poland include the relatively low cost of doing business—wages and rents are lower than in most other European countries. It's also geographically close to Western Europe, just a two-hour flight to London and one hour ahead. Plus, English is widely used throughout the country, and it's a very strong ally of the United States. As such, a solid affinity exists between the two countries. Poland is well positioned to compete in the global market for software development talent, so you should consider outsourcing there if quality and ease of communication are important factors for you.
IT and software development are now Poland's largest employment sector. Each year Polish IT professionals receive the highest ranks in international programming contests such as the Microsoft Imagine Cup, Google Code Jam and the Central European Programming Contest. Many service providers specialize in web development, C++, .NET, Java, iOS, PHP, Python and Linux. Embedded software and other hardware-related software are often outsourced to Poland, too.
Accelerance Partners in Eastern Europe
Eastern Europe has a solid outsourcing pedigree: strong universities, proximity to Western Europe and a close cultural affinity with the West make it a favorite outsourcing destination. But despite the many cultural similarities, it is always helpful to learn more about the current environment of any potential software development outsourced partners to increase your understanding of their unique cultural and business environments and build rapport.
The ecosystem of Accelerance Certified Expert (ACE) partners includes companies from Eastern Europe that have been thoroughly screened and vetted. We've been working with partners around the world for decades, including those in Eastern Europe for more than 15 years. These partners know what it takes to succeed on software development projects with North American organizations, including adhering to Accelerance's intellectual property protection best practices.
To learn more about outsourcing to countries in Eastern Europe, download our complete regional guide. Ready to find your next outsourcing partner? Contact us today.