When Andy Hilliard (our company President), sent me this SNL video about David Ortiz and said "We're going to get mofongo", my brain went "huh?" But, after 4 days in Puerto Rico, I can now add mucho mofongo to the list of interesting bits of culture I've encountered working in global software development. No, this isn't a blog about food - but who can resist a bueno mofongo? (Admit it. You want one.)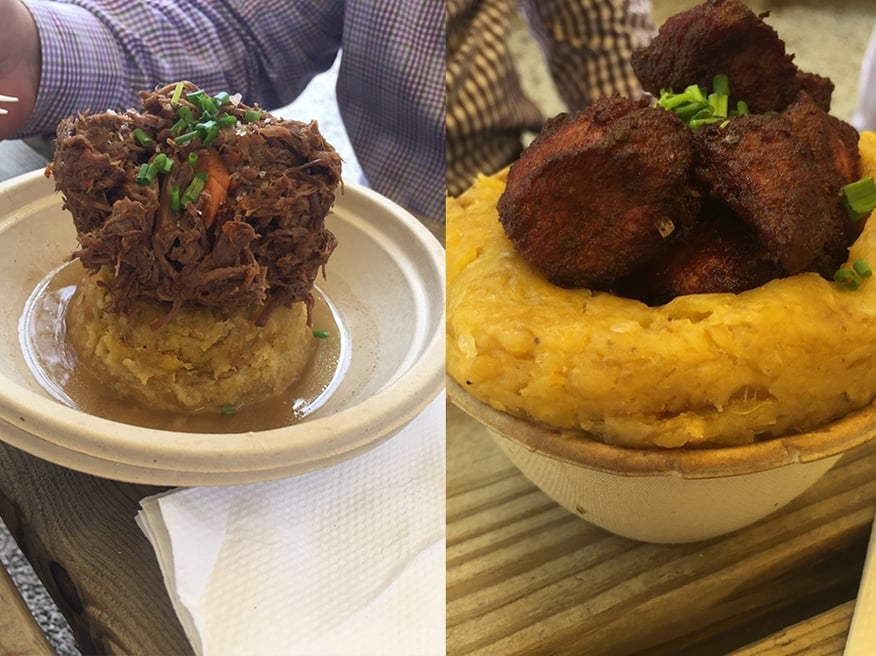 Puerto Rico is unlike almost any other outsourcing hotspot because, unlike many other offshore or nearshore countries, Puerto Rico is part of the United States... which means you can leave your passport at home when making important site visits. Puerto Rico is highly unique and highly desirable as a software development outsourcing location for the significant cost savings found over mainland U.S. with the same laws, regulations, standards, work-day overlap, short distances, and English proficiency that makes working with a U.S. software developer so appealing. Located less than 4 hours away from New York by air, Puerto Rico is unique in its ability to offer the best outsourcing benefits of both the U.S. and Latin America.
Check out this video that sums up the benefits of working with a outsourced software development company in Puerto Rico - and don't mind that rushing noise in the background. It was only a giant waterfall in the rain forest. (#dontbejealous).
U.S. to Puerto Rico: It's like another country… only not.
Puerto Rico has that Caribbean, tropical island feel, but culturally it's American with a Latin twist. Spanish is the first language in Puerto Rico, but English is the language of business. Communication and cultural differences with your Puerto Rican outsourcing team is a non-issue. And, you'll love all the Puerto Rican food and flavors for business lunches and dinners served with the best fish tacos and mojitos you've ever tasted.
Bridging the cultural and communication divide is extremely important to the success of any outsourced software initiative and can result added complexity and stress if not properly maintained. Language gaps in Puerto Rico are a non-issue. All professionals in Puerto Rico will be fluent in both English and Spanish, which eliminates the risk of miscommunication due to language barriers. In addition, many software developers in Puerto Rico are educated on the mainland and return home.
Keeping your USD in the US - with significant cost savings
As a territory of the United States, the currency in Puerto Rico is the U.S. dollar and many of the same banking institutions that operate on mainland U.S. also operate on the island. This is a huge benefit to software outsourcing to Puerto Rico, as the USD creates cost-certainty and rates that won't be impacted by exchange rate fluctuations.
The big difference over working in mainland U.S. is hourly rates. Hiring a software development team in Puerto Rico will cost you 30-50% less on average than a similarly skilled team on the mainland. Sample rates in Puerto Rico are: junior developers commonly cost $45/hour while senior developers can command around $75/hour. Both rates offer significant savings over mainland U.S. comparables. For more on getting the best rate in the region you've chosen to outsource, download a free copy of The 2017 Guide to Global Outsourcing Rates.
Puerto Rico has had recent economic struggles, something many cities in the U.S. can relate to. But, software development is going strong and creates many jobs which helps talented Puerto Rican software developers stay in - or return to - Puerto Rico.
Puerto Rico is Perfect for Patriots
"American Made" is a hot national issue that's picked up press and steam in the current political climate. Outsourcing software development to Puerto Rico keeps software development within American borders and directly benefits the U.S. economy. Because of its territorial affiliation with the United States, Puerto Rican software development firms adhere to the same laws, regulations and certification requirements as all U.S. developers. With the rise of security attacks, cyber security has become a front-and-center concern for those looking to outsource software development. By outsourcing to Puerto Rico, you'll work with software development teams held to the same legal standard for Intellectual Property protection as found on the mainland.