What should President Donald Trump understand about outsourcing software development?
A lot, we believe.
---
---
On Feb. 28, 2017, Trump signed two bills that promote women entering and leading the STEM fields (science, technology, engineering and math), and while signing those bills, he noted: "Protecting women with STEM degrees, and all Americans with STEM degrees, is very important, but it also means you have to crack down on offshoring, because the offshoring is a tremendous problem that displaces many of our best American workers and brains – the brain power."
The two bills that Trump signed are not related to software outsourcing – or any outsourcing for that matter – but he took that bill-signing moment to once again articulate his view on outsourcing, a perspective he also made clear on the campaign trail, in speeches and numerous times via Twitter.
Regardless of what the administration says, there are legitimate reasons to outsource when it comes to software development – such as the well-documented shortage of software developers in the United States and the high salaries that these engineers command (which some SMBs may not be able to afford).
So while President Trump may speak negatively about outsourcing, there are many companies who need software development resources. And there's not much choice for these companies but to seek talent outside the United States. If they don't, the economic impact becomes bigger than the perceived threat of a job being done a few time zones away; it becomes a tale of economic stagnation, unprofitability for enterprises and lack of innovation on the home-front.
For the most part, Trump's emphasis has been on outsourced manufacturing and not outsourcing of technology or software development; thus, the technology industry and enterprises are paying close attention to what will transpire as it relates to their businesses.
In the meantime, the new informative ebook from Accelerance, What You and President Trump Need to Know About Software Development Outsourcing, looks at how some enterprises and software-focused companies have few options to engineer the product or solution they need – and how they're turning to outsourcing with world-class providers.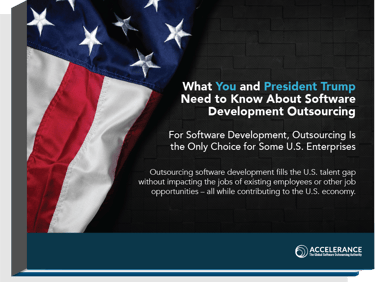 The complimentary eBook considers the legitimate reasons why companies outsource their software development, in light of outsourcing concerns by the United States' new political administration. The eBook looks at how it's not getting easier or more affordable to hire in-house software developers in the United States. If anything, it's getting harder.
The eBook also highlights how many U.S. companies have turned to outsourcing their software development to get quality software to grow their businesses. Perhaps President Trump is not fully aware of how fruitful software actually stimulates even more software development, innovation, profitable businesses, a healthy economy, and many jobs that go beyond engineering. Outsourcing software development truly helps the U.S. economy.
According to the eBook, current political discussions raise concerns about offshored jobs, yet outsourcing software development may be the only alternative for some companies in a tight labor market. And while the U.S. talent pool remains under-staffed, the global software developer population hosts a vast network of skilled professionals, making outsourcing more than a worthwhile solution.
Download the new eBook and discover additional insights on why more and more companies are turning to software outsourcing, and how it ultimately supports the U.S. economy.
The new eBook also covers the difference between custom software development outsourcing and IT outsourcing (an important distinction in the discussion about outsourcing), as well as the Five Advantages of Outsourcing.
And if you're ready to outsource software development, give us a call. Talk to an Accelerance Advisor about your software engineering needs. Call Toll-Free in the United States: +1-877-992-2235. For All Other Global Calls: +1-650-472-3785.
Steve Mezak is the founder and CEO of Accelerance, Inc., a leader in global software development outsourcing. He's also the co-author of Outsource or Else: How a VP of Software Saved His Company, author of Software Without Borders, and a Forbes and CIO columnist. Download these books and additional insights on outsourcing software development at the Accelerance Resources page.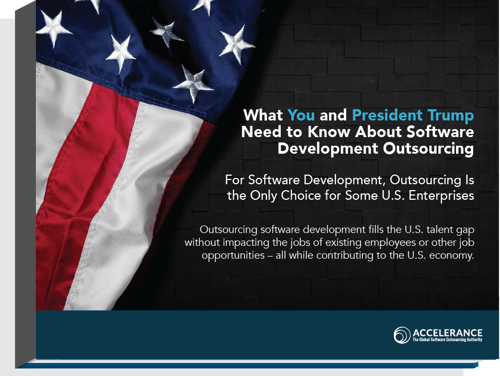 Get the Report
The shortage of software developers in the United States is well-documented. The Trump administration has drawn attention to outsourcing as an approach that threatens American jobs. But is all outsourcing created equal? Outsourcing software development fills the U.S. talent gap without impacting the jobs of existing employees or other employment opportunities – all while contributing to the U.S. economy.