If you're reading this post, there's a good chance you're thinking about developing an app. However, unless it's a super app you're not going to be doing the job yourself. That means you need developers, so budgeting mobile app development cost is essential to judging the feasibility of the project.
Here's a breakdown of how much you should expect to pay to develop your app. We'll also share with you why we think you should closely consider outsourcing and certain development methods to keep those costs as low as possible.
How Much Does Mobile App Development Cost?
This varies widely depending on what you're trying to accomplish. Mid and large size companies vary in the amount that they report paying for mobile app development. In a survey of IT managers of companies of 500 employees or more, costs averaged $270,000 per app, but were spread widely from only thousands to over $1 million USD.
Smaller companies obviously paid less, but even then companies were routinely paying tens of thousands of dollars to build a quality app.
Native or Hybrid Mobile App Development?
One factor in the difference in rate is whether you choose native or hybrid development. Native development is where the app uses the native programming languages of the device to build the app, where hybrid uses web technologies for content delivery inside a natively programmed shell.
Obviously, the hybrid development will be cheaper since web development is easier, but here's a breakdown of cost by the type of app you create, from a small minimum viable product app up to the largest enterprise apps, from an onshore, offshore or nearshore firm.
1 Platform Native App

$21K - $152K
Both Platform Native App

$32K - $251K
Both Platform Hybrid App

$22K - $162K
1 Platform Native App

$14K - $106K
Both Platform Native App

$28K - $175K
Both Platform Hybrid App

$15K - $113K
Here, you're likely looking at domestic (U.S.) developer rates of around $100 per hour and $25 to $60/hour offshore or nearshore.
Waterfall or Agile Development for Mobile Apps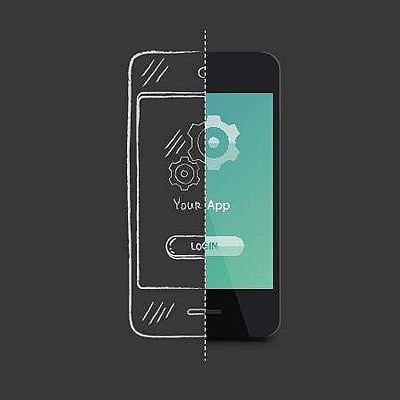 Waterfall is a tried and true method for developing an app. It works by relying on rigid project specifications to guide the app's design. If you're budgeting say $10,000, waterfall methodology dictates to the dollar how you'll spend those funds. Specifications are exhaustively designed and documented, allowing you to develop on an extremely limited budget.
While waterfall enables the development team to get started with a clear idea of deliverables, there isn't much margin of error. If priorities change later on, the project may need to be redesigned. This can lead to potential cost overruns.
The waterfall method really should only be used if you're confident in your app strategy. For those that might not have a solid plan yet or are rushing to get their product to market, agile development is a better option.
Agile development focuses on frequent iterations and an embrace of change. This method allows developers to focus on select features for short periods of time, without lengthy specs.
By testing the app frequently, the team identifies problems and can fix them in the workflow, trimming costs and streamlining development. The agile workflow requires excellent communication, skilled project management, and workers who can independently build and troubleshoot.
Case studies indicate that agile methods deliver a better piece of software in 37 percent less time than traditional methods. That's because the development team is always working on the most important features during each development sprint. shorter turnaround time gets the app to market faster.
The Argument for Mobile App Development Outsourcing
With so much of mobile app development cost being employee and contractor costs, outsourcing is a great method to keep those costs down. While outsourcing with a reputable, fully-vetted global team through Accelerance may cost you more than outsourcing the job to a freelancer on Upwork or other similar sites, you'll get a skilled, knowledgeable development team at a rate 30px lower than that of domestic rates.
Here's what you should expect to pay, and how it compares.
IN HOUSE DEVELOPER
$95 - $150/hour
---
ACCELERANCE VERIFIED TEAMS
$25 - $60/hour
---
A word of caution, though, cost should never be the driving factor in software outsourcing; there's much more to gain. Proven software providers all over the world bring considerable mobile development experience to your app - experience that would be nearly impossible for you to develop with your own in-house team. Top software companies invest in great hiring practices, ongoing training and have broad exposure to industry needs and use cases. Nearly all the best software outsourcing companies are expert in both agile and waterfall development practices