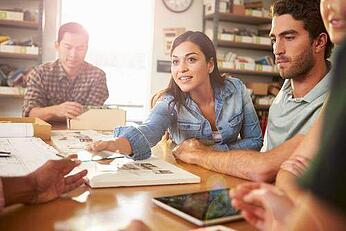 When you are a startup founder, one thing that is critically important is building a healthy, collaborative company culture among your programmers. Outsourcing some of the software development is usually not considered – how can non-employees be integrated into your culture?
One of our partner companies in Costa Rica, actually enjoys and looks forward to building a hybrid company culture with their clients that integrates the best of both companies. "We see ourselves as an extension of your organization, not a faceless vendor or partner," a senior management member of our partner in Costa Rica, told us. "We had a client in Silicon Valley, and we used to joke that they are in San Jose North and we are in San Jose South. The culture they established had a lot of components of our culture here. It was a very successful relationship."
Software outsourcing also makes sense for 2 other reasons: A startup with limited resources can get a lot of expertise at a great price. Or, when you're growing and need to scale quickly, outsourcing some of the development work rather than scrambling to find high-quality programmers is an ideal solution.
One major roadblock startups sometimes encounter is having an idea but no programmers – and they are very hard to hire. This particular partner can provide a development team with the culture and sense of urgency that startups need to get up and running quickly.
Convincing a startup that nearshore is an option can be an uphill battle. First, there are IP concerns – how do they know if they'll have their idea or code stolen? Like several Accelerance partners, they are incorporated in the US and therefore covered by US laws. Plus, we can show them the experience we've had with other startups and our own history.
"The engagement process with startups is very interesting," Cruz said. "When you start adding 1 or 2 developers, it is easy to keep up, but when you move from 2 to 10 or 15, it can get complicated. We can manage that to ensure quality by starting with an engagement process to map out the project and avoid issues when the startup really starts growing."
To learn more about outsourcing software development to a nearshore company in Costa Rica, contact us today!